Regular price
Rs.1,050 PKR
Sale price
Rs.799 PKR
Unit price
per
Sale
Sold out
100% Original Miss Rose

Same-Day Order Dispatch

Love it or Return it
What it is:
This silky lightweight MISS ROSE 3D PEARL WHITENING COMPACT POWDER & LOOSE POWDER has a hint of color for a seamless natural makeup base look.
Why You'll Love It:
Oil Control
Smooth Application
Long Lasting Finish
Share
View full details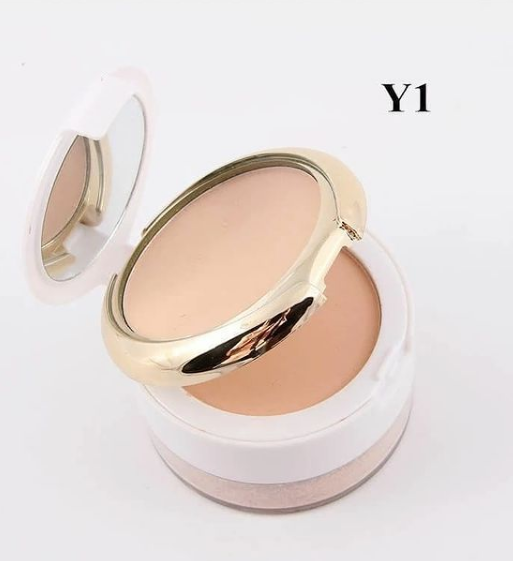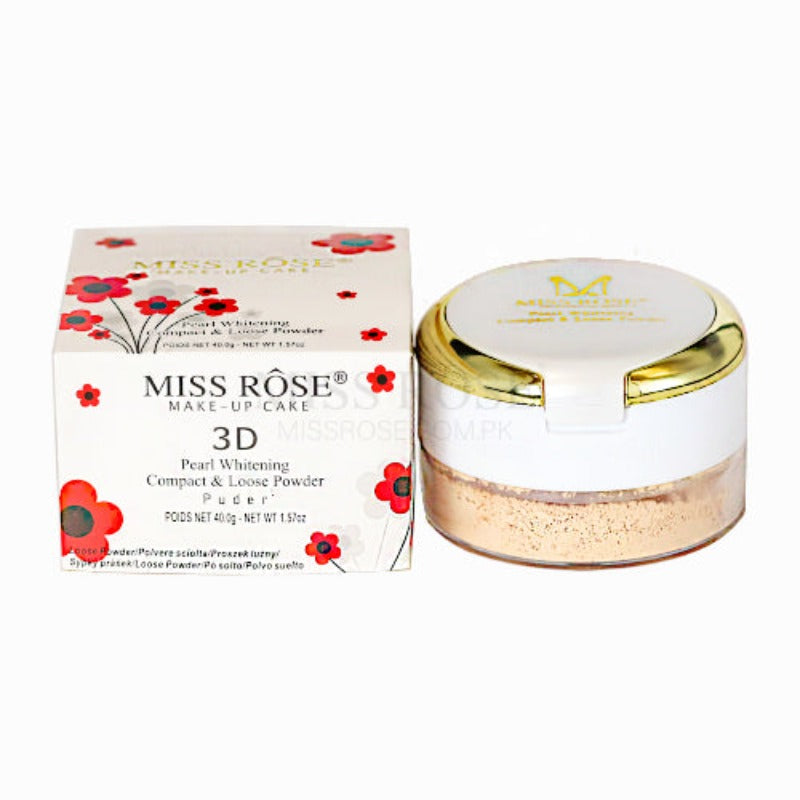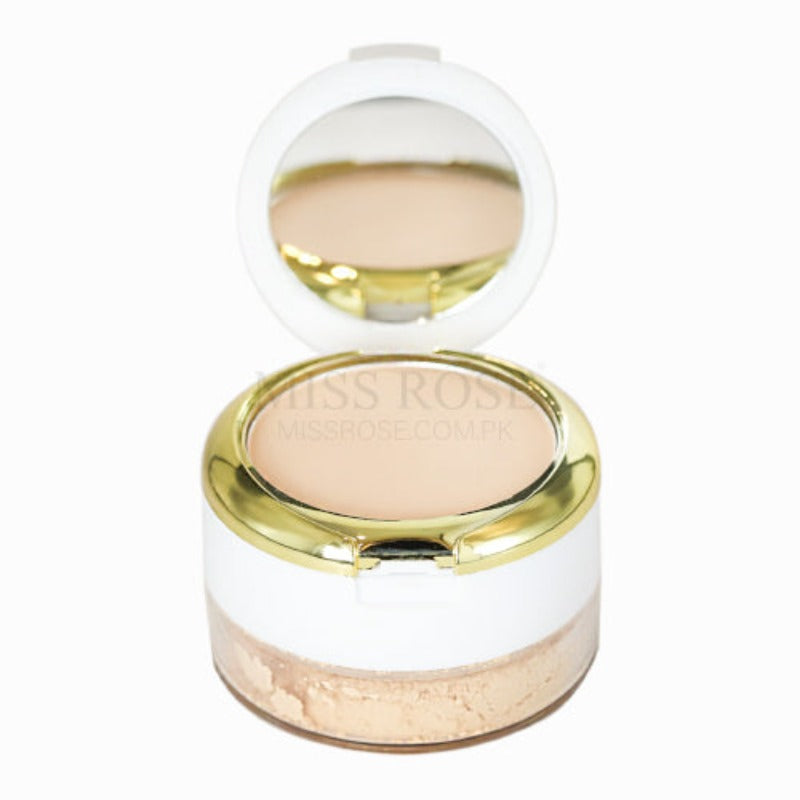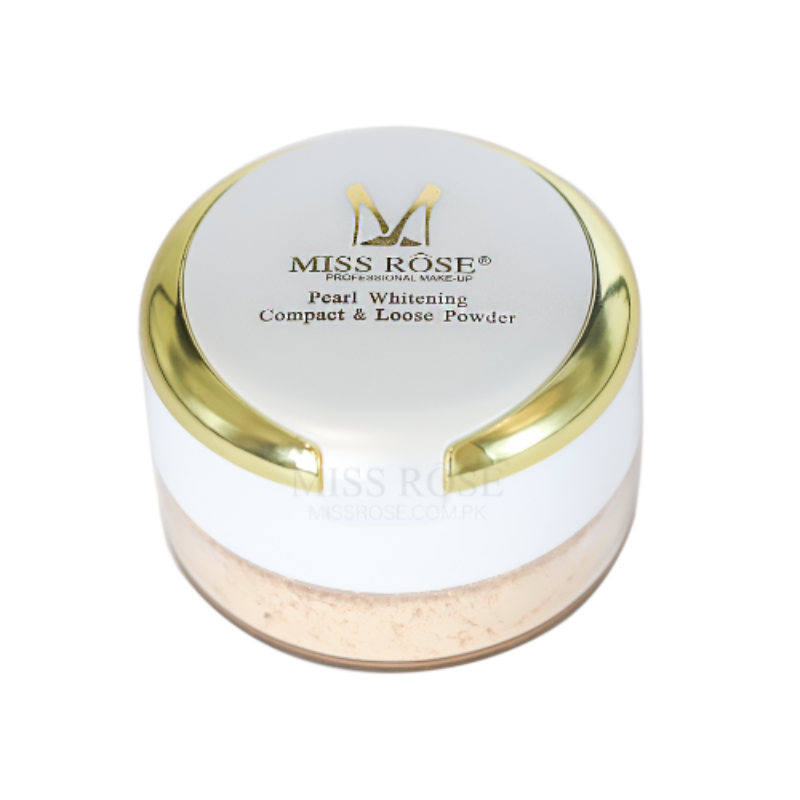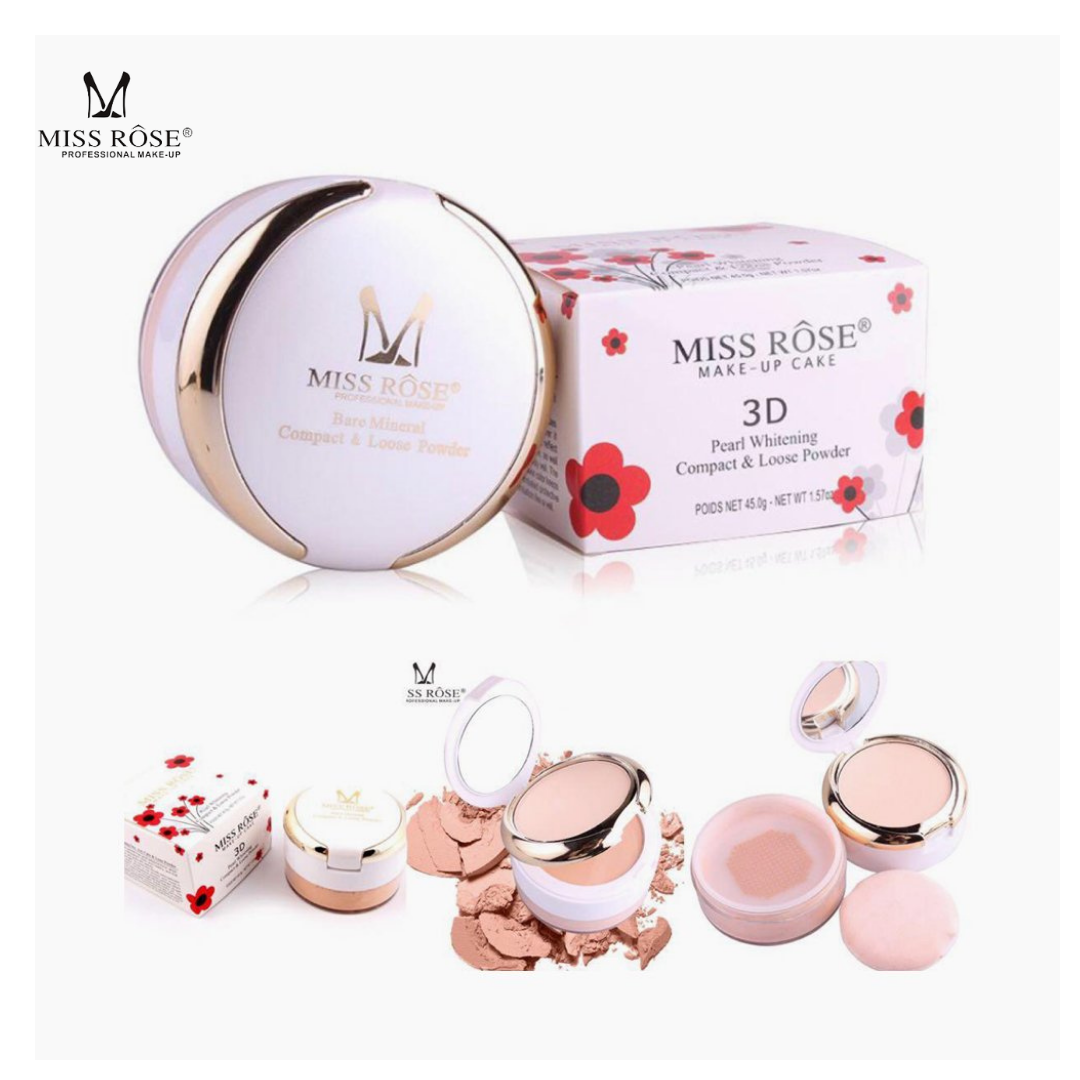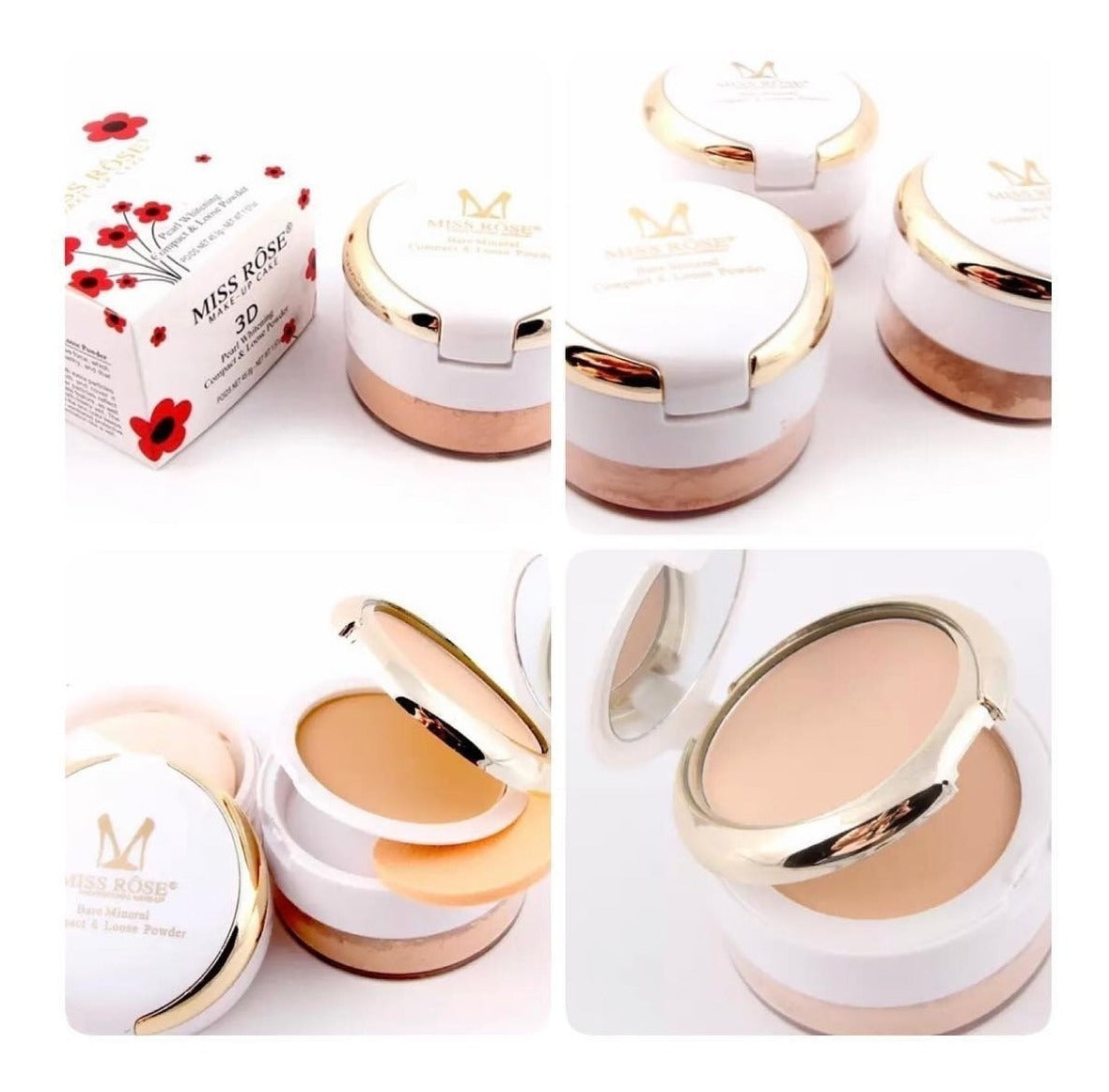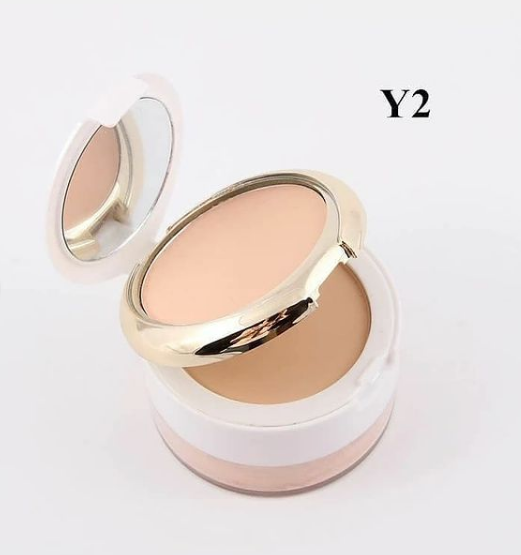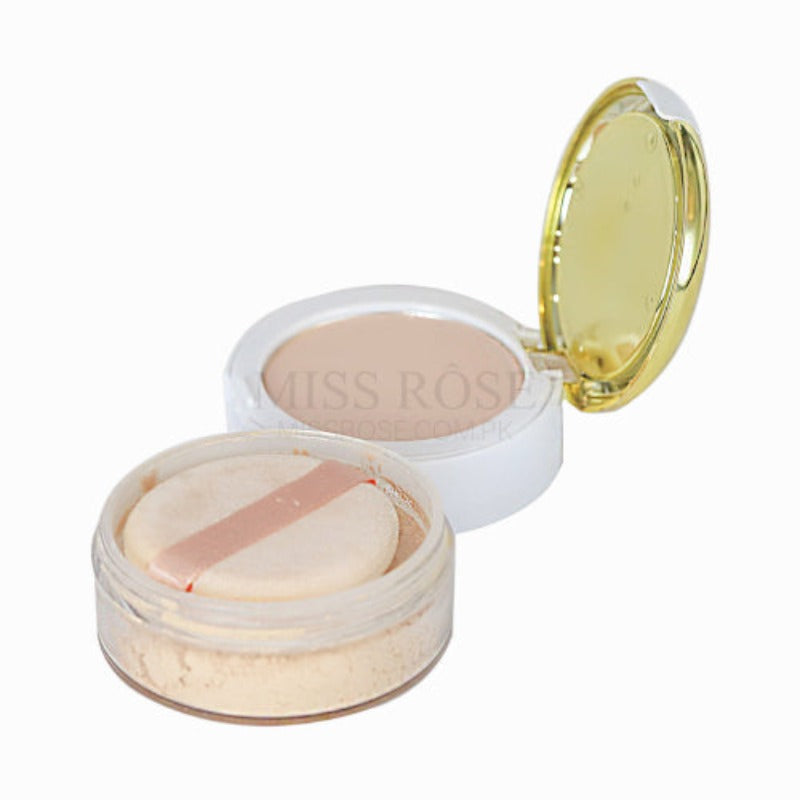 For dark completion which no best in loose powder

For Dark color, be sure to select a shade of 02.

I order bg 2 so what loose powder color I have to choose?

Mam shade 05 is for beige skin tone.

Mn miss rose ki ivory 6 foundation use krrhi us k sath kn sa loose powder jaey ga??

10 or 08 can be used.

Which shade u suggest 4 normal skin?

Y2 can be used.

For medium skin color and neutral skin undertone. which shade is best?

Mam shade 05 is for beige skin tone.

dono my kia difference h ni smjh a rahii

Mam Y1 and Y2 main shade diffrence hai

My skin is white tone kona wala use karo y1 ya y2?

Y1 is for yellow skin tone.

Ap ka best compact kon sa ha

Mam all compact powder are best. You can select has per your skin types.

What is difference btw compact and loose powder?

Compact powder is meant to touch up your makeup throughout the day. Loose powder comes in a jar, has smaller particles (and therefore a finer consistency), and usually give lightweight coverage. They're also messy and hard to transport, so these guys are meant to stay at home.

main nay order kia tha par abhi tak recieve nahi howa.

Kindly confirm your order number or the contact number that you have entered so we can track your order.

fair but not extra fair k lye konsa ho ga

You can select shade 01 .

For fair skin which number is best

Y1 is for yellow skin tone and the Y2 is for pink skin tone.

Is y1 is lighter shade?

Yes, Y1 has yellow under tone for fair skin,.

Yellow fair skin tone k liye kaunsa use hoga?

Y1 is for yellow skin tone.

With natural foundation beige 1....is me pearl whitening loose plus compact powder ka number kia ho ga??? Y1 ya y2?? Ye dry skin kay liay thik hai? I ve very dark circles under eye with wrinkles under eyes with dry patchy skin I use natural foundation beige 1 Concelear me beige1 ya natural 3?? Konsa lon? Loose powder konsa number n which type is best 4 me?

compact powder 01 ho ga beiga 1 foundation ky sath. ya tmam skin tone ky lea best hai .  
For under eye we suggest you to select or liquid concealer along with primer.

Me foundation ivory use krti hn tow kindly mere liye guide krden compact or loose powder number

Compact powder will be Y2.

my skin colour is fair, recommend me shade

Y1 is for fair skin tone.

AOA me 3D compact powder daily use k liye Lena chahti hu kon SA shade Lu ?

w,salam Ap apni skin ky mtabiq lijea agy yellow skin hai to 01 or pink skin tone hai to 02 lejea.

Assalam o alaikum mai foundation ki beige 1 use karti hu to lose powder kis shade mai lun.... kindly guide me

w,slam
 Mam apka loose powder 05 or compact powder 01 main ho ga.

Assalam o alaikum Mai compect powder oor loose powder purchase Karna chahti hu.... kindly mjy guide kar dyn k kis shade mai Lun....mai foundation beige 1 use karti hu skin py soot karta hai kindly mjy guide kar dyn kis shade mai lun???

W,salam
Mam apka loose powder 05 or compact powder 01 main ho ga.

I want pinkish ivory tone face powder and none of them are labelled ivory. How to choose by numbers?

Mam 02 shade has ivory color.

are your products made in china???

Yes, Miss rose brand is a chines brand.

I have normal skin colour which shade i should bay

Select shade Y 1 for Normal skin tone.

Ye keisy use kerty hein please guide me Thanks

Pressing the powder under your eyes will help set any concealer you have on. Press the sponge along your T-zone and the rest of your face to set your foundation. Then use small dabbing motions to press the powder onto the rest of your face.

Is Y1 of dark shade?

No it has fair yeloow shade.

Dry skin k liye konsa powder recommend karen gey?

Mam for dry skin select our two way compact , this is best for all skin type.

Normal skin k liye konsa shade hy????

Y2 is for normal skin color.

Y1 or 01 is same shade?

Yes it is ,

Which shade do you suggest for fair skin type?

Shade 01 is for fair skin tone.

The loose powder is matt or it does contain shimmer?

This is matte powder.