Regular price
Rs.599 PKR
Sale price
Rs.420 PKR
Unit price
per
Sale
Sold out
100% Original Miss Rose

Same-Day Order Dispatch

Love it or Return it
What it is: MISS ROSE Full Coverage Matte Foundation delivers a full-coverage, natural velvet-matte finish.
What Else You Need to Know: This full-coverage foundation allows pigments to lie flat for seamless blending and layering. The lightweight, natural-matte foundation provides all-day comfort and leaves skin looking velvety smooth and protected.
Benefits:
It offers a lightweight texture and finish that won't leave the skin feeling heavy
It is easy to blend and provide buildable coverage
It is super effective when it comes to cutting down on excess oil
It is safe to use if you have acne-prone skin
How to apply:
-Apply with a foundation brush for a flawless, full-coverage finish.

Share
View full details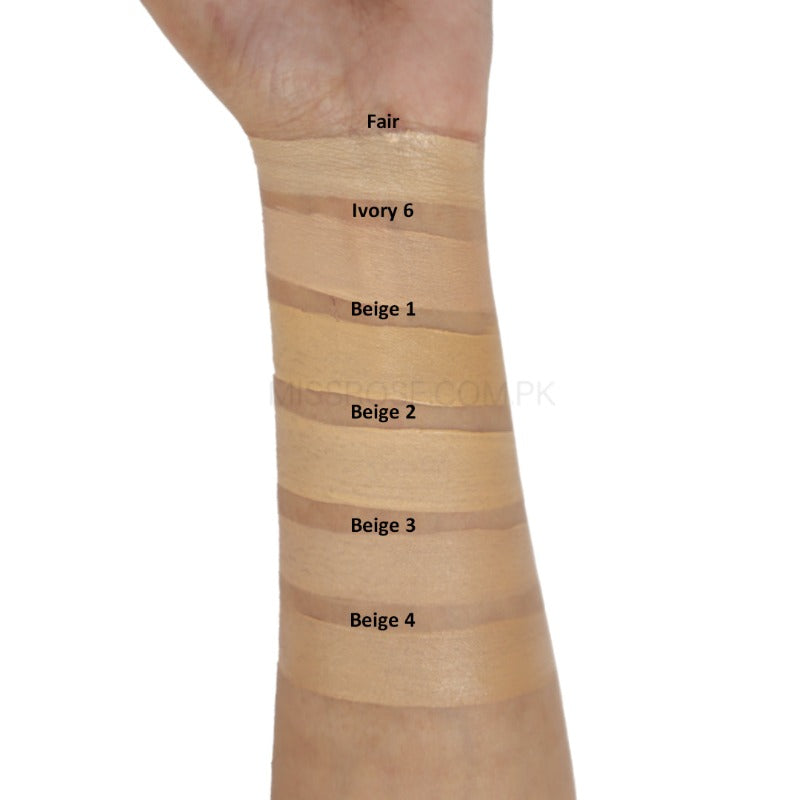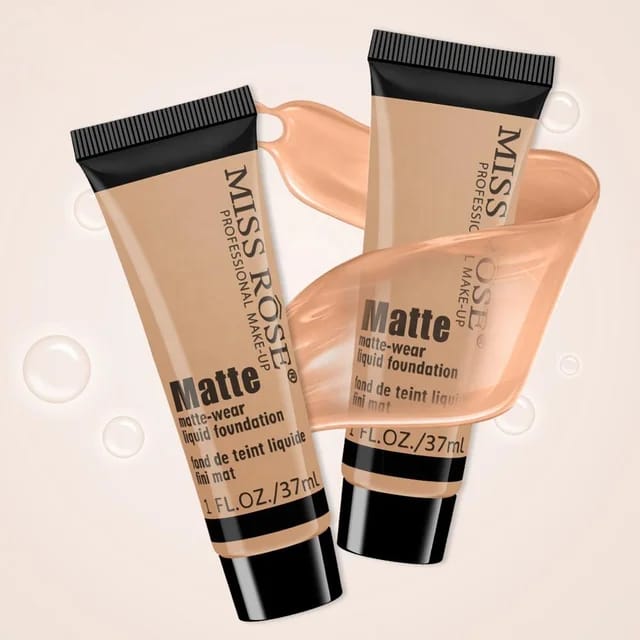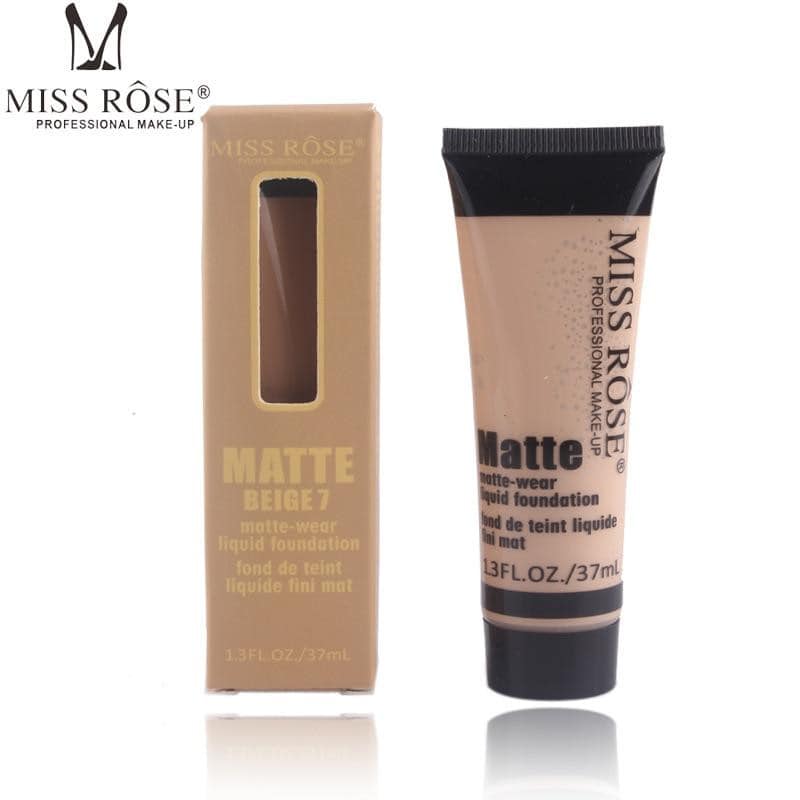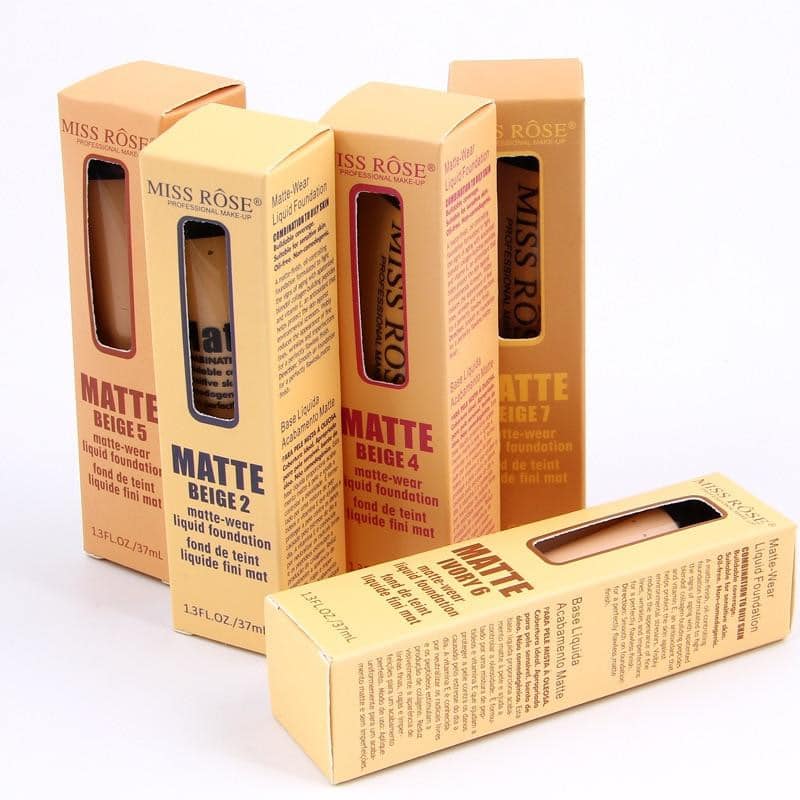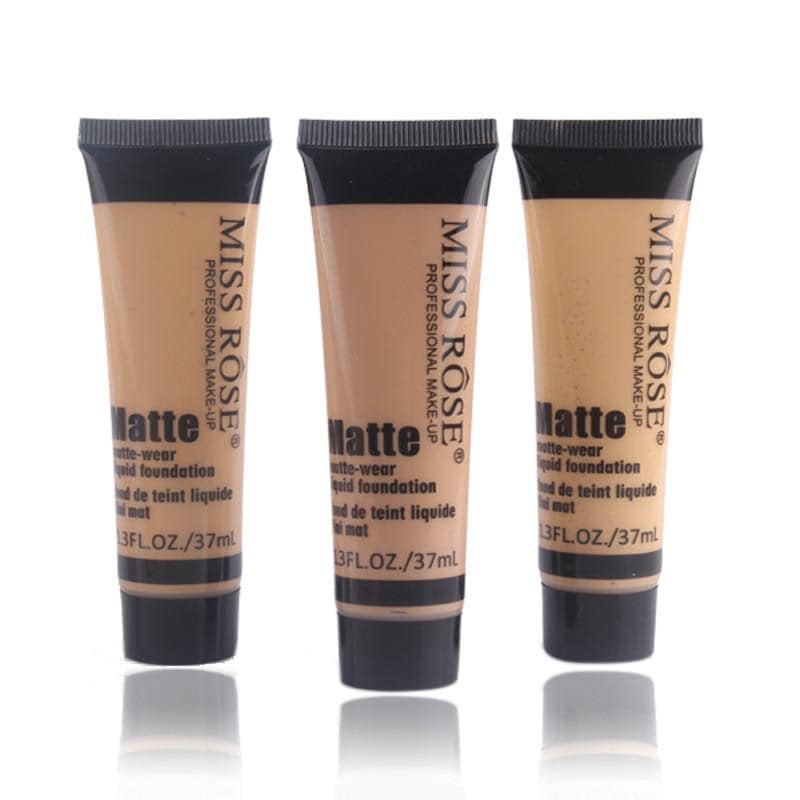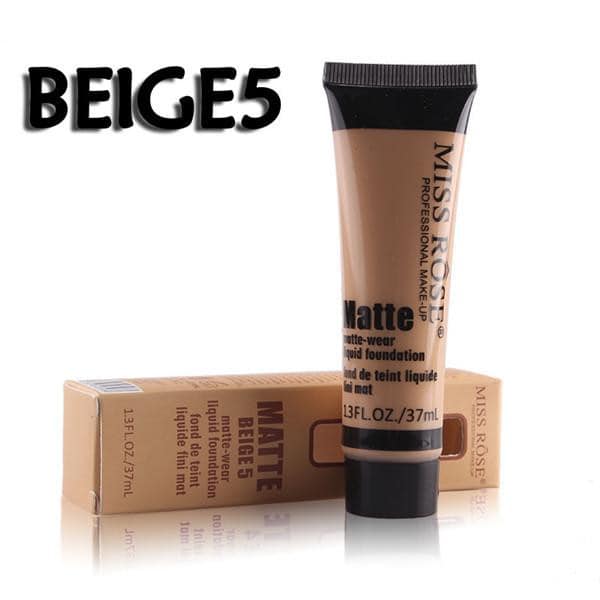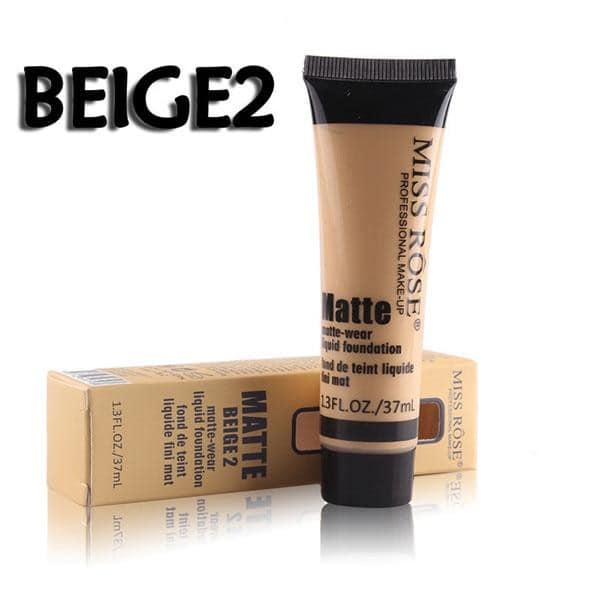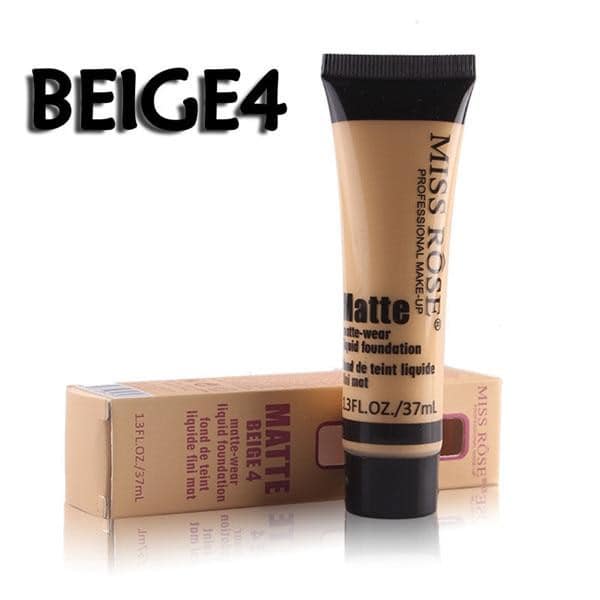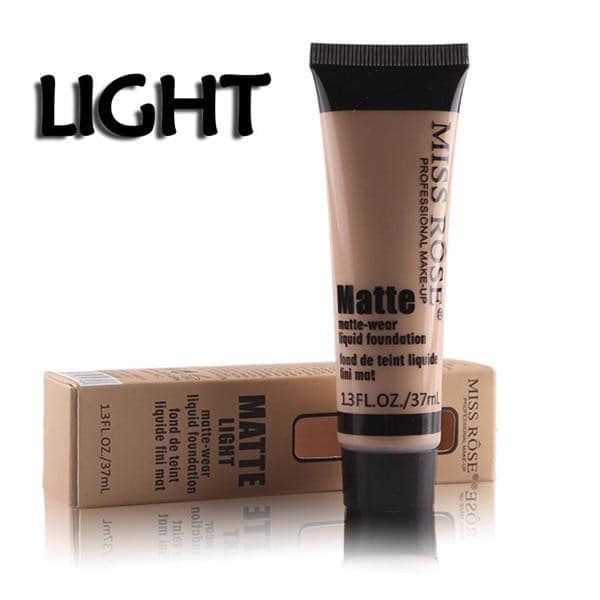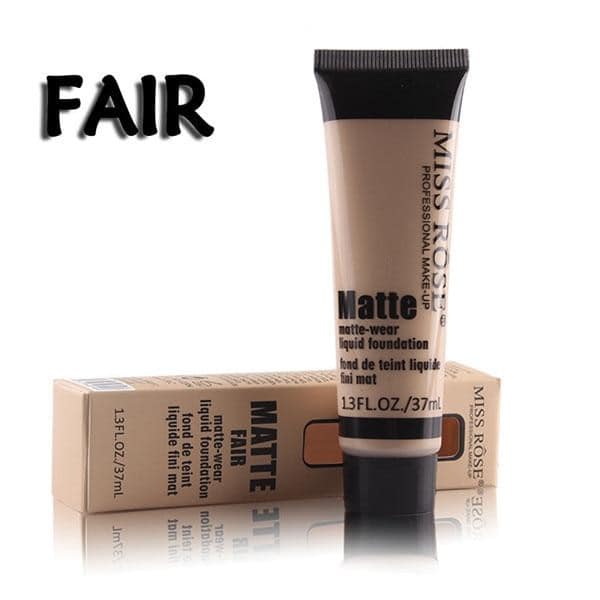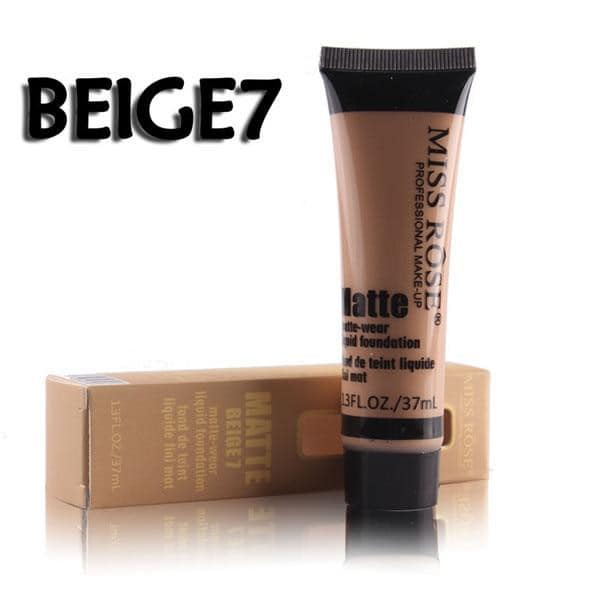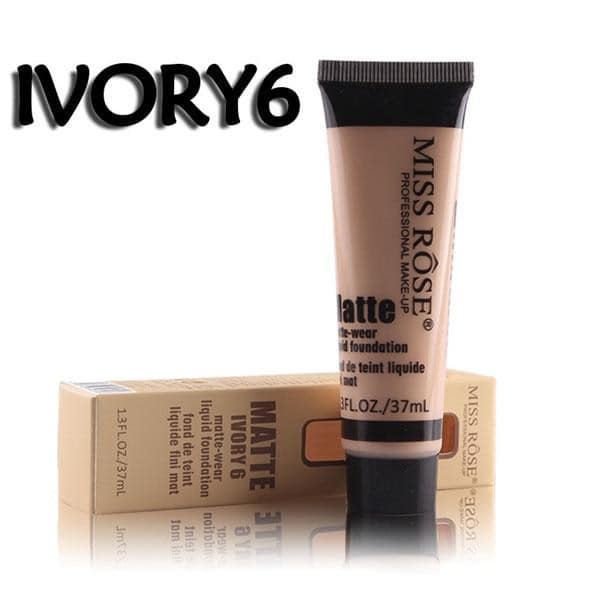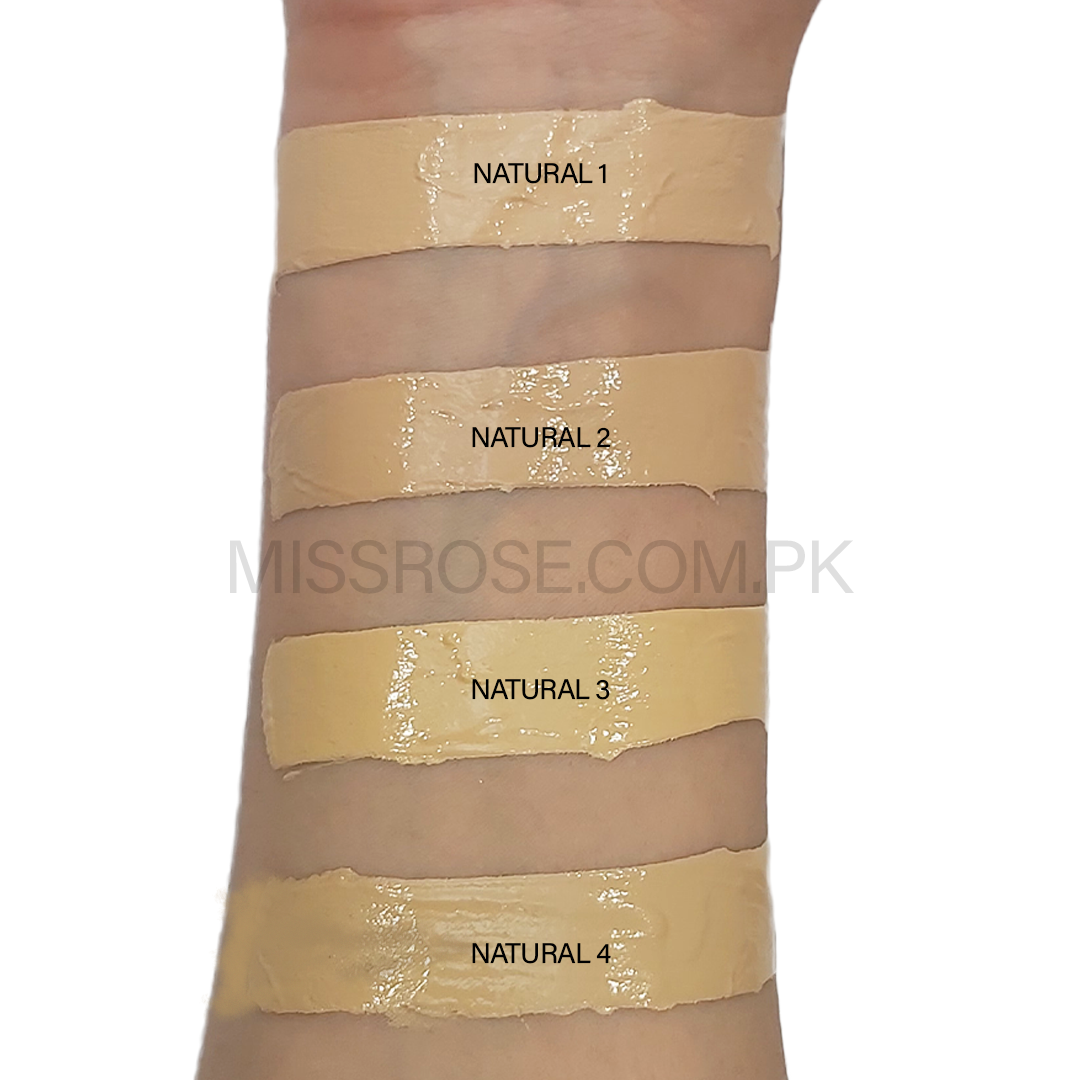 plz guide me for dull asian complaxition

We have  beige 3 and beige 4 is for dull color. .
We suggest you to select a shade one tone lighter than your Skin tone

Which is the lightest shade? Light or fair? Ismai ivory nhi hota?

Yes, Is main ivory shade hota hai. Or fair sb sy light shade hai jo ky yellow skin tone ky lea use hota ha

How mush time to deliver

Delivery takes 3-4 working days after placing of your parcel

Which foundation shade is suitable for me?I have wheatish complexion

We have fair Weatish  shade for fair skin and beige 1 for normal skin tone.
We suggest you to select a shade one tone lighter than your Skin tone

mera color dull kon sa shade lu

For dull skin we have beige 3 and beige 4

We suggest you to select a shade one tone lighter than your Skin tone

For any help and queries kindly contact on our official number: 0311 11 222 40 

I want beige 2 shade

Beige 2 shade is available. Kindly contact us on whatsapp for order placing:  0311 11 222 40

Assalam o Alaikum Sir meri skinn clr bhtt zada fair goriyo ki tra nhi hy ...lakin fair hy to knsa shade mjy use krna chaheayy

We have fair and ivory6  shade for fair skin and beige 1 and beige 2 for normal skin tone.
We request to select shade from mention shade card which is exactly match woth your skin color .

For more details whatsapp us 0311 112224

fair colr kay lye knsa use hoga plz guide???

We have fair and ivory6  shade for fair skin and beige 1 and beige 2 for normal skin tone.
We suggest you to select a shade one tone lighter than your Skin tone

For more details whatsapp us 0311 112224

Aoa. Mera shade 38 he. In mn se Konsa 38 jaisa he??

Mam this shade is our beige 2 .

We suggest you to select a shade one tone lighter than your Skin tone.

For more details whatsapp us 0311 112224

I have ordered Beige 2 but it does not match my skin shade, itz with yellow under tone😥😣

We suggest you to select a shade one tone lighter than your Skin tone

for more details whatsapp us 0311 11 222 40 

Is there any exchange policy?

Mam we have a 7 days exchange policy. But kindly make sure that product should be packed. In case of replacement, the customer pays delivery charges for both sides. Kindly whatsapp 03111122240 us for more details.

How can I order 2 different shades..there is no option for 2nd shade.?

You can select one shade after that add to cart the another one and press continue shopping 
Or Kindly Whatsapp us for order  0311 11 222 40

salaam ... dc gujrat??

Delivery is free on the purchasing of Rs 2000 or above but less than Rs 2000, delivery charges are Rs 199only.

How can I know Abt my skin tone little confusing

We have fair and ivory6  shade for fair skin and beige 1 and beige 2 for normal skin tone.
We suggest you to select a shade one tone lighter than your Skin tone

I am using maybelline 110 shade for foundation Which shade of miss rose full coverage will match the shade i am using???

Mam fair shae offer you the shade for fair skin tone.

We suggest you to select a shade one tone lighter than your Skin tone

With the help of shade card on our website you can select the best shade for your skin.

Mera order kab mile ga?

Ma'am kindly whatsapp 0311 11 222 40 us your contact number or order number and date of placement of your order so we would be able to track your order.

DC hyd

Delivery is free on the purchasing of Rs 2000 or above but less than Rs 2000, delivery charges are Rs 199 only.

I have normal two face conpleaxtion please suggest me best foundation

beige 1 and beige 2 for normal skin tone.
We suggest you to select a shade one tone lighter than your Skin tone

With the help of shade card on our website you can select the best shade for your skin.

What will be the best suitable shade for my skin? My skin colour is wheatish gold kind

We have fair and ivory6  shade for fair skin and beige 1 and beige 2 for normal skin tone.


With the help of shade card on our website you can select the best shade for your skin. 

45 number foundation fair hy na? I am confuse.

Shade fair shade is the name with Fair,

Please put a proper shade card to help us choose the right shade... From the pictures above it's really hard to tell which shade is mine. I want to ask is beige 2 lighter or beige 4? Also if the natural ones are close to these two shades, yellowish but lighter, then please tell me

We are sorry for the inconveneicne Mam.

We have uploaded updated shade card. Beige 4 is a two tone dark shade  than beige 2.

for more details kindly whatsapp us. 0311 11 222 40 

I'm not sure k meri skin tone py kon sa shade best rhy ga I'm going with ivory 6 to agr kuch problem hua shade ka change krny ki kya policy ha?

We have a 7 days exchange policy. We have fair and ivory6  shade for fair skin and beige 1 and beige 2 for normal skin tone.
We suggest you to select a shade one tone lighter than your Skin tone Mam

Is it possible to deliver before Eid???

Mam delivery just take 3-4 working days. We are providing quick delivery services to facilitate our customer.

Ivory 6 lighter shade he ya fair?

fair is lighter

I usually use natural ivory, which tone should i use from following tone: beige, fair, natural, ivory

We have fair and ivory6 shade for fair skin and beige 1 and beige 2 for normal skin tone. Beige 4 and beige 3 is for dark skin tone
We suggest you to select a shade one tone lighter than your Skin tone

DC for Faisalabad?

Delivery is free on the purchasing of Rs 2000 or above but less than Rs 2000, delivery charges are Rs199 only.

I am using fair shade foundation I have this one too Would it be same shade?

Yes it will be same 

 

Fair color kab tak available ho ga matte foundation me

Fair shade is available . You can place your order now.

Order kitne din ma mil jaye ga ..!!!

After placing an order delivey takes 3-4 working days.

Is there any difference between the natural shades and the beige shades?i want beige 3 but its sold out..

Yes they are different but nearest to beige.  The beige 3 has been restocked . You can place order now.

Mera color white hy r cool undertone me hy kindly bta de mje kon c shade leni chai is foundation ki .. mje buy krni hy ye

Mam this is the shade of ivory 6. 

 

Dark skin k lye Kon sa shade perfect Hoga warm undertone ma

Beige 4 and beige 3 is for dark skin tone
We suggest you to select a shade one tone lighter than your Skin tone

For more details Kindly contact our official whatsapp or call 
+92 311 1122240

Which foundation and concelar I should use for medium skin tone I've combination skin type I got oil on side nose and chin area

Natural 3 of conceler and beige 2 of foundation will be for this skin type. 
We suggest you to select a shade one tone lighter than your Skin tone

Which foundation and concelar I should use for medium skin tone I've combination skin type I got oil on side nose and chin area

Shade natural 3 of concealer and shade beige 1 of foundation offers your shades,.

We suggest you to select a shade one tone lighter than your Skin tone

 

For more details Kindly contact our official whatsapp or call 
+92 311 1122240

Yhaa sale prices likhi hoi hain but jb order krty hain to zyda payment likh k aa jtii hain kindly confirm price bta de 🙂

Mam Rs 2000 ki km ki purchasing py delivery charges apply hoty hain.

Fair colour vale konsa shade len miss rose tube foundation ka ?

Mam fair skin ky lea fair shade available hai.

If I want to exchange any of my product..is that possible? Do you have exchange policy?

Mam we have 7 days exchange policy. Kindly whatsapp 03111122240 us the picture of invoice paper and product for exchange

Summer main use ho Sakti hai

Yes it is best for summer use.

My skin complexion is fair mis rose matte full coverage foundation Mai Konsa shade use krna cahiyee

We have fair (warm) and ivory6 (cool) shade for fair skin.
We suggest you to select a shade one tone lighter than your Skin tone

Mera wheatish complexion h concelr orfoundation konsa suit krega?

We have fair (wheatish) and ivory6 (pink) shade for fair skin and beige 1 (Wheatish) and beige 2 (Pink)  for normal skin tone.
We suggest you to select a shade one tone lighter than your Skin tone

Which one is the suitable for my skin kindly guide???

We request to choose shade 1 tone lighter than your skin tone.

not interested for this order please cancel my order. thank you,

Kindlly whatsapp us for 03111122240 for order details or cancelation.

Is it good for super oily and two tune skin with pigmentation??? I'm fear in complexion

it is good for oily skin tone and the shade fair can be used for fair shade.

Please sugest me foundation number and concealer num for medium skin tone..its my 1st experience

Beige 1 concealer  and beige 2 foundation offers for meduim skin color shade. .
We suggest you to select a shade one tone lighter than your Skin tone 

Mam mera color Gandumi by to meri skin py kon sa foundation best ho ga

Beige 1 and beige 2 for normal skin tone.
We suggest you to select a shade one tone lighter than your Skin tone

How do I choose my foundation shade? Can any one help?

We have fair and ivory6  shade for fair skin and beige 1 and beige 2 for normal skin tone.
We suggest you to select a shade one tone lighter than your Skin tone

For More details  Kindly contact us on our official whatsapp 0311 1122240

Hum concealer or foundation ka shade kesy choose kr skty...? Normal complexion hai Mera na zda dark na Da fair

Beige 1 and beige 2 for normal skin tone. Foundation and concealer shade will be same. 
We suggest you to select a shade one tone lighter than your Skin tone  .

For more details you can whstapp us 03111122240

Concealer or foundation ka same clr use kr skty????

Yes Mam you can use same colour of foundation and concealer

How i order this?

Ma'am you can place your order on our website or you can whatsapp 03111122240 your details to confirm your order 

Dilivery charges in Lahore

Delivery is free on the purchasing of Rs 2000 or above but less than Rs 2000, delivery charges are Rs199 only.

Which matte shade is lighter than beige 2. It was little dark for me. I can't understand which shade suitable on me.

Shade beige 1 is lighter shade than beige 2

Hello, is this foundation for all skin types or oily skin?

We have matte foundation which is good for oily skin tone. 

Kya cash on delivery possible h?

Yes, We provide 3 payment method to facilitate our customer.
1 Easiy paisa
2 cash on delivery.
3 bank Account

When the beige 1 foundation be restocked

Shade beige  has been restocked.

Kindly contact us on our official WhatsApp 0311 11 222 40 so we can guide you about it more.. 

My skin tone Wheatish,suggest which foundation is suit for me?

We have fair shade for fair skin and beige 1 for normal skin tone. 
We suggest you to select a shade one tone lighter than your Skin tone.
For More details  Kindly contact us on our official whatsapp 0311 1122240



Do you have any shop in lahore?

We had an outlet but due to COVID-19.  we closed our outlet but we are providing our services online all over the Pakistan... 

Any outlet of yours in gujranwwla?plz

We had an outlet but due to COVID-19.  we closed our outlet but we are providing our services online... you can visit our website www.missrose.com.pk or you can place your order here.

For More details  Kindly contact us on our official whatsapp 0311 1122240

With free delivery?

Delivery is free on the purchasing of Rs 2000 or above but less than Rs 2000, delivery charges are Rs 199 only.

For More details  Kindly contact us on our official whatsapp 0311 1122240

DC for fsd plz

We offer free delivery on the purchase of Rs 2000 or above but less than Rs 2000, delivery charges are Rs199 only.

for more details Kindly contact us our official whatsapp +92 311 1122240

How can i purchase your products

You can place your order through our official website or send us your details so we will place the order for you.

Main select beige w kr rj hun pr wo hmesha cart mnivory6 add kr rhy esa q?

We are really sorry for the inconvenience,

kindly contact us on our official WhatsApp number so we will confirm your order with your desired shades : 0311 11 222 40 

 

Beige 2 lani chahy ya fair ..kn c saj rhy gi kindly bta dain??

We have fair and ivory6  shade for fair skin and beige 1 and beige 2 for normal skin tone.
We suggest you select a shade one tone lighter than your Skin tone

Knsi choose krni chahy ?mean esy pta ni lg rha.normal clr uo na zyda whote na dark

Beige 1 offer normal skin tone.
We suggest you select a shade one tone lighter than your skin tone

Medium skin tone py kon sa color best ho ga kindly bta dy ye mat kahey lighter tone shade ka name bta de

Beige 1 and beige 2 offer normal skin tone.
We suggest you to select a shade one tone lighter than your Skin tone

Matt & normal foundations k shades choose karne mai kya difference hota hai ?

Mam hr foundation ka shade card change hota ha

Kindly contact us on our official whatsapp 0311 1122240 so we can guide you about it .

Aoa . With biegi 2 shade which concealer i have to use and one more thing jb b mai yh lagati hun to meri skin p blend hony k bd yh iska dry dry patch ban jty hn skin sukh jti hai dry ho jti to is k lie mai kia kru kindly tell me

Mam ap beige 2 ky sath concealer ka bhi shade 2 hi use kar sakti hain. Mam ya oily skin ky lea foundation hai. For dry skin ap Natural foundation select kijea.

Dc for isb?

Delivery is free on the purchasing of Rs 2000 or above but less than Rs 2000, delivery charges are Rs,199 only.

What is your delivery charges

Delivery is free on the purchasing of Rs 2000 or above but less than Rs 2000, delivery charges are Rs 199 only.

For More details  Kindly contact us on our official whatsapp 03330529002 .

Karalon stick 36 and 38 use kerti hon to ap k full coverage foundation mai koun sa color lena chahyea????

Beige 3 nd beige 2 offer your shade.

We suggest you to select a shade one tone lighter than your Skin tone

 

For More details  Kindly contact us on our official whatsapp 03330529002 .

dark skin ke liye konsa shade use karna chaiye please sahi bataye meri skin pe koi bhi foundation suit nahi karta

Beige 3 and beige 4 is for dark skin tone. 

 

Fair shade zyada light hai k Light shade?

Fair sb sy light shade shade hai. Mam ivory shade pinkish tone main hai jbky fair yellowish tone mai hai..

For More details  Kindly contact us on our official whatsapp 03330529002 .

Does it have light consistency or heavy?

It offers a lightweight texture and finish that won't leave the skin feeling heavy

DC for Lahore

Delivery is free on the purchasing of Rs 2000 or above but less than Rs 2000, delivery charges are Rs199 only.

 

Which foundation is best for wheatish complexion ? Skin type : combination skin

We have fair shade for fair skin and beige 1 for normal skin tone. beige 3 is for dark skin tone

 

 

Im confuse to select foundation colur

To find the best foundation color shade for you, figure out the undertones of your skin. To do this, look at the veins on your wrist. If they look blue, your skin is cool toned, and if they look green, your skin is warm toned. If your skin is warm toned, look for a gold or yellow based foundation. Like fair, beige 1 or beige 3. 

Im confuse to select foundation colur

To find the best foundation color shade for you, figure out the undertones of your skin. To do this, look at the veins on your wrist. If they look blue, your skin is cool toned, and if they look green, your skin is warm toned. If your skin is warm toned, look for a gold or yellow based foundation.

Delivery charges for okara!?

Delivery is free on the purchasing of Rs 2000 or above but less than Rs 2000, delivery charges are Rs199 only.

Fair mai kb tak available hogi

Fair is available. 

Kindly whatsappp us 03330529002 for more details. 

Mre skin bhut zayada oily hai koi b foundation lagao kuc time k bad oil a jata face pay mujy matte finishing chahye guide plz

This is our oil free foundation but for extra oily skin we suggest you to use these steps to avoid oil and sweating face during the makeup

Keep the face clean. ...
Use Miss rose zero pore Primer: ...
Use Miss rose matte foundation : ...
Use Miss rose setting spray. ...



 

Plz ask me the lightest shade of this base

We have fair and ivory6  shade for fair skin

We suggest you to select a shade one tone lighter than your Skin tone

Natural tone k ley kon sa shade ho ga matt foundation ka

beige 1 and beige 2 for normal  or natural skin tone. Beige 3 and beige 4 is for normal to darker skin tone.
We suggest you to select a shade one tone lighter than your Skin tone

Ivory shade available? Oily skin k liy ye suit kry gi

Yes it is best for oily skin tone. Shade ivory 6 is available on sale.

If we buy more than one product DC will be same 198/- or per product u will charge it?

Delivery charges will be applied whole on cart .  Not for each product,

Mjhy dull skin tone k liye foundation Ka no bta den main F38 use krti hon lekn ab mjhy ye foundation order krna hy?

Mam dark shade is Beige 3 and beige 4

 

Hi, I am using maybeline fit me foundation for years , its 220 color is exactly my skin color , which shade of missrose will be fit for me?

Beige 2 resemble your shade.

Light or fair m kiya farq h

Shade "Light" sy ak tone light shade hota ha "Fair"

My skin is weatish in colour oily and sensitive which colour suits me? Kindly plz guidee

Matte foundation us best for oily skin tone.�
We have fair and ivory6 �shade for fair skin and beige 1 and beige 2 for normal skin tone.�
We suggest you to select a shade one tone lighter than your Skin tone

Aoa I have wheatish complexion with some pigmentation on my forehead will it go on my skin?

We have fair shade for fair skin and beige 1 for normal skin tone.�
We suggest you to select a shade one tone lighter than your Skin tone

I am having beige 1 but before aplaying this i am apllaying aqua f1 shade of krylon so please advice which shade will be working on replacement of krylon stick it could be beige 2 or 3.

The shade Fair is resemble with F1 color. 
We suggest you to select a shade one tone lighter than your Skin tone

Which one for oily skin?

We have matte foundation for oily skin tone.

DC charges kitne h? Khi ke? 1250 ki shopping p free h kia DC ?

Delivery is free on the purchasing of Rs 2000 or above but less than Rs 2000, delivery charges are Rs199 only.

I have placed my order about 5000 but i want to change matt foundation colour please contact me

Kinly contact our official whatspp number for change products. 0311 11 222 40

Which shade is good for fair se thora kam skin tone 2 or 4?

Beige 1 and beige 2 for normal skin tone.�
We suggest you to select a shade one tone lighter than your Skin tone

Dc for Lahore?

Delivery is free on the purchasing of Rs 2000 or above but less than Rs 2000, delivery charges are Rs199 only.

How to buy this product I can't understand

To find the best foundation color shade for you, figure out the undertones of your skin. To do this, look at the veins on your wrist. If they look blue, your skin is cool toned, and if they look green, your skin is warm toned. If your skin is warm toned, look for a gold or yellow based foundation. For more details kindly whatsapp us 0311 11 222 40 

 

I ordered the shade beige 3 but it is really dark!! Idk why although it's a lighter shade. Pls tell me which one is actually a lighter shafe cuz I literally got scammed for 578 rs

We have fair and ivory6  shade for fair skin and beige 1 and beige 2 for normal skin tone. beige 3 and beige 4 fr dark skin tone. 

We suggest you to select a shade one tone lighter than your Skin tone

DC for Mandi Bahauddin

Delivery is free on the purchasing of Rs 2000 or above but less than Rs 2000, delivery charges are Rs199 only.

Deliver kab tk Hoga parcel???

After placing  delivery  takes 3-4 working days.

Can u plz reply my order has confirmed or not???????

kindly Whastapp 0311 11 222 40   us your name or order number and date of placement so that we can track your order, after tracking we will inform you.





Mera order confirmed hogya??

kindly Inbox 0311 11 222 40us your name or order number and date of placement so that we can track your order, after tracking we will inform you.

i have fair complexion but not pinkish or yellowish which shade suits me ?

Mam Fair shade is best for Fair complextion.

Hey! My shade in miss rose purely natural foundation is beige 2. Which shade i should buy in Miss rose matte foundation? Beige 2 or beige 3? Is the Purely natural beige 2 and Matte beige 2 is same?

Natural  foundation beige 2 and Matte foundation beige2  is almost same shades and for same skin tone.

I usually buy ivory shade in foundations. Which is ivory shade in this one.

This is Ivory6.

I have golden warm skin.so kindly recommend me number of miss ross foundation.

Shade beige 1 is resemble shade.

We suggest you to select a shade one tone lighter than your skin tone.

Ye dry skin k lye hai???

Ya oily skin ky lea ha.  Dry skin tone ky lea liquid foundation hai, 

Does it oxidize?

Oxsiding happens when customer doesn't choose the suitable formula of foundation for skin type or selects improper shade of foundation for skin tone.  





My Skin tone is fair but not extra fair which shade is suitable for me. Normally I use ivory shade

Mam for normal skin tone you can select shade beige 1 .

ivory 6 shade is for pink undertone skin.

Which shade is lighter than beige 2???

Biege 1 is lighter than beige 2.

Sir delivery charges kitny hain

Delivery is free on the purchasing of Rs 2000 or above but less than Rs 2000, delivery charges are Rs199 only.

sir m first time use krni hai mjy koi idea ni hai plz help me

Kindly select shade according to your skin tone. For further details kindly whatsapp us. 0311 11 222 40 


Which shade is good for light skin tone (fair to d)?

Dear Zarish. We have shade Fair for fair skin tones. Kindly select a shade according to your skin tone. 

What if we order wrong shade by mistake? Will it be replaceable? What is the procedure?

Yes,  we have exchange policy. In case of any help kindly contact or whatsapp on this number    
0311 11 222 40

can i edit my order?

Yes for editing on your placed order kindly whatsapp us. 0311 11 222 40 .

DC for FAISALABAD?

Delivery charges are Rs 199 only ,if you order for Rs 2000 or above then it is free of delivery charges,

Please tell me tge shade for deep combination like honey shade

Mam beige 3 offers your desired shade. 

 

Can you please tell me how I can add two different shades of full coverage foundation

You can add more products to click continue shooping.

Dc for karachi?

Thank you for approaching us Mam. Delivery charges are 198/- only ,if you order for Rs 2000 or above then it is free of delivery charges,


Aoa mera colour na white hai na black medium hai konca colour suit kry ga?????

W,salam  We have beige1 for normal skin

Ma'am kindly select a shade according to your skin tone.

 

What is the delivery charges

Delivery charges are 199/- only ,if you order for Rs 2000 or above then it is free of delivery charges,

Can the foundation be exchanged if there occurs some shade issue when ordered online?

Yes we have exchange policy.

Please recommend me foundation for medium fair whitish skin tone I can't choose but I have to buy

Shade beige 1 offer your shade. Ma'am kindly select a shade according to your skin tone.

Please recommend me shade for medium fair skin tone I can't understand in pictures!

Beige 1 resembel your shade.  Ma'am kindly select a shade according to your skin tone...

beige 3 shade available hai q k color mai jab mai beige 3 select karti hou tou pic mai beige 4 ata hai asa q hota .

Yes it is available.

incase of any issue you can place order on our whatsapp number as well.

kindly contact or whatsapp on this number
0311 11 222 40 


Delivery charges?

Delivery charges are 199/- only ,if you order for Rs 2000 or above then it is free of delivery charges,

Meri skin ka medium clr na black hy na white.. is k liye plz bta dain konsi foundation choose kru?

Mam beige 2 and beige 3 is used for meduim brown skin tone.

ASA...I used porcelain shade for my skin which shade should i use

Mam shade Fair is resemble shade of Procelaine.

Which foundation shade and concealer suit on dry fair skin?

For dry skin use Fair shade of liquid foundation and the same shade from liquid concealer. 

For normal skin which one is best ??? Mai fitme 30 use karti houn us jesa koi shade is mai btaien

Beige 3 resemble your shade.

Ap delivery kitny din mein krty hain?

Thank you for approaching us Mam. Delivery takes 3-5 working days.

Which matte foundation shade suits on near to fair or medium complexion???

Mam near to fair shade is Beige 1 .

Which matte foundation suits on whitish complexion kindly recommend.

Shade Fair, Beige 1 and beige 3 is for wheatich skin shade.  kindly select a shade according to your skin tone.

Is beige 4 good for normal skin tone not so fair not so dark?

Beige 4 is  dark shade. Beige 3 is for normal to dark skin tone  Ma'am kindly select a shade according to your skin tone.

My clr was fair bt nw aik tone dark ho gae suggest me shade

Beige 1 is one tone darker shade

How i choose foundation my skin tone is fair

Mam shade fair is for fair skin color.

Which matte foundation shade is lighter than beige 2 .It was a little dark for me.I can't understand exact shade in pictures .Plz write shade number which is lighter than beige 2

Thank you for contacting us Mam.For any help and queries kindly contact on our official Whatsapp number: 03330529002

Sanwly clr k like knsi best hy!??

Mam beige 3 is for normal to dark skin 

If I'm using fit me 220 shade, then what would be Miss rose shade perfect for me?

Beige 2 resemble with 220 . For best results kindly choose one shade lighter than your skin tone.

Exp date plzzz

Our product shelf life is for 3-4 years.

Dark complexion k lia kon sa colour best raha ga

Beige 3 and beige 4 is for dark skin tone.

For best results kindly choose one shade lighter than your skin tone.

Wheatish complexion k liye beigi 1 ya 2 konsa then rahy ga

Beige 1 is for wheatish skin tone.

 .For best results kindly choose one shade lighter than your skin tone.

Please suggest me foundation and cocealer i have normal skin tone not fair neither dark

Beige 2 is for normal skin tone. For best results kindly choose foundation one shade lighter than your skin tone.

For your face, select a concealer that matches the color of your foundation exactly.

Beige 1 oxidized hokr knse shade me convert hota h kia beige 1 fair skin k liay perfect h

Mam oxsidizing foundation ki tb hoti hai jb ap shade skin tone sy match use na kry. Or mostly grey look deny lgti hain. For Best result ap apni skin tone sy ak shade lighter seelct kry, Fair skin ky lea shade Fair select kry

mera colour whitish ha kon sa shade recommend me please?

Fair , Beige 1 and beige 3 is for wheatish tone. 

For best results kindly choose one shade lighter than your skin tone.

I'll buy this profuct foe the very first time and i dont know which color will match my skin and i really dont want to waste mybmoney, how to choose color online?

To find the best foundation color shade for you, figure out the undertones of your skin. To do this, look at the veins on your wrist. If they look blue, your skin is cool toned, and if they look green, your skin is warm toned. If your skin is warm toned, look for a gold or yellow based foundation. for more details. Kindly whatsapp us. 0311 11 222 40

Which colour for fair skin?? And is this good for oily skin hide pores??

Yes this is best for oily skin and hide pores. For best results kindly choose one shade lighter than your skin tone.

When will the full coverage matte foundation in beige 3 be available?

It is available Mam. 

Kindly recommend foundation and concealer numbers for medium tone.

Thank you for contacting us Mam.For best results kindly choose one shade lighter than your skin tone.For your face, select a concealer that matches the colour of your foundation exactly

I am having wheatish complexion which foundation will suit me?

Thank you for contacting us Mam.For best results kindly choose one shade lighter than your skin tone.

Normal fair or pimples types face which shade I use??

Beige 1 resemble your desired shade.

For best results kindly choose one shade lighter than your skin tone.

crylon 38....mediam warm tone not dark not fair...plz btaey kon c choice kro yaha nahi pata lgvraha...

Mam shade beige 2 resemble with 38 . 

and me apna shade chang krna chahti hu kese krun???

For any help and queries kindly contact on our official number : 0311 11 222 40

kya apke pas beig 1 shade availble hai??? pic me beig 7 show horha hai

Yes it is available.

deleivery charges?

Above 2000 delivery is free but less than 2000, delivery charges will be 199 only.

Where can we find your products in Faisalabad?

We are onlined based .You can order on our website and get your product in your door step. .

Delivery charges?

Above 2000 delivery is free but less than 2000, delivery charges will be 199 only.

Which shade is lighter than beige 1

Fair is lighter than beige 1 for yellow skin tone.

My undertone is yellow so, which shade is suitable for me?

Fair, Beige 1 and beige 3 has yellow undertone color. For best results kindly choose one shade lighter than your skin tone.

Beige 2 Kon c skin type k lye Hy??

Beige 2 is for meduim to dark skin tone.

Normal tone pe knse shade use hoga.? Kindly tell the shade number

Beige 1 is for normal to fair skin tone. For best results kindly choose one shade lighter than your skin tone.

Mri skin yellowish tone m h to knsa color best rhy ga?

For fair yellow skin you can select shade fair.

I need a shade card i cant pick my color tone e

We have uploaded shade card. You can check our website for shade card.

Which foundation shade is good for fair yellowish tone??

Shade fair is for fair skin tone. For best results kindly choose one shade lighter than your skin tone.

Mera face ka colour na ziyada dark hai na fair hai ..gandami or sanwla clr hai mery face ka tu s k leye knsa wala full coverage sae hoga ?

Beige 2 is offer your shade. For best results kindly choose one shade lighter than your skin tone.

Im shocked to c that ur price is more than daraz n other sellers

We have original product & our price are different just because of quality.

Medium colour py konsa shade aye ga plz shed number batan

Beige 1 is for meduim skin tone. For best results kindly choose one shade lighter than your skin tone.

Delivery charges plz

Above 2000 delivery is free but less than 2000, delivery charges will be 199 only.

Medium skin stone py konsa shade sahi rahy ga?

We have beige 1 and beige 2 for meduim skin color.

Which shade would b suitable for Wheatish complexion

Shade fair is best for fair wheatish skin tone. For best results kindly choose one shade lighter than your skin tone.

Fair and beige2, which one is good for wheatish fair skin tone?

Fair is for fair skin tone, ..

Normal skin tone py beige 1 thek rhy gabya fair shade ?

For normal skin tone beige 1 is best.

Which base is best for dry skin tone with normal colour.... liquid foundation or full coverage matte foundation??

Liquid Foundation is better for dry skin..

Meri skin tone normal ha to mjhy beige 1 buy krna chahiye ya fair shade ?? Plz suggest

Beige 1 is best option for you. 

Etude ka Natural beige use karti hoon , Miss rose ka kon sa no best rahay ga ,pls guide me

Beige 1 is Resemable shade.

For best results kindly choose one shade lighter than your skin tone.

Mri thori c darker complexion ki tarif tone jati hai. Which shade will suit me?

Mam beige 2 is for meduin to dark skin tone

For best results kindly choose one shade lighter than your skin tone.

Wheatish color h mera...kaun sa shade shi hoga?

For Fair wheatish skin we have fair shade and for meduim skin we have beige 1 shade.

Is this foundation suit for dry skin?

Yes, It is good.

Beige 3 is for which color skin i have medium colour skin means is it suits me

Beige 3 is for dark to meduim skin tone. For best results kindly choose one shade lighter than your skin tone.

How can I choose best suited foundation for my skin as it's not fair as well as not dark tone

Beige 2 is for meduim to dark skin tone.

For best results kindly choose one shade lighter than your skin tone.

Kindly suggest me shade..mera normal colour he, thora white ki taraf

For best results kindly choose one shade lighter than your skin tone for foundation.

help me selecting the foundation according to my skin tone.

For best results kindly choose one shade lighter than your skin tone.

Is it halal products?? Certified??

Yes our products are halal . 

Ivory 6 sy thora sa dark color konsa ho ga??

Syeda Areeba. Beige 1 has 1 tone dark shade than ivory6.

Meri normal skintone hai nahi bhtt dark hai nahi bht light medium hai bass .knsa shade lun?

Minhal. shade beige 2 is resemble your desired shade. For best results, kindly choose one shade lighter than your skin tone.

Medium color py kn sa shade best hoga? Zyda fair b ni h or na zyda dark color h mera.

Thank you for contacting us Hira.For best results kindly choose one shade lighter than your skin tone.

I am using beige 3 shade but now I feel it is little darker for me as I be one full after applying it so now I am confused between beige 2 and ivory 6 shade please suggest??

 Maham.For best results kindly choose one shade lighter than your skin tone.

Medium tone pa konsa shade chalay ga Jo natural b lagay

Urooj.Beige 1 or Beige 2 can offer you the resemblance of mentioned Shade.But we suggest you to choose one shade lighter than your skin tone.

Mera color normal hai. To konsa shade suitable rhyga jis sy fair nd natural look ay??

Aqsa.Shade fair is resemble with your desired shade. For best results kindly choose one shade lighter than your skin tone.

Hi I have dusk complexion please suggest me shade also I have heard that this foundation oxides so please suggest accordingly

Ayesha  Beige 4 offer your desired shade. For best results kindly choose one shade lighter than your skin tone.

Cocealer ksy choose kry apny tone k lehaz sy

Concealer wo choose kren jo apki foundation k colour sy match krta ho .

Fair tone pe konsa shade jaega?

Thank you for contacting us Mam Ayesha.Ap Fair ya Ivory 6 dono mein sy koi bhi choose kr skti hain.

I have a medium skin tone but not quite dark... complection is in fair.. Please describe me the sahde...

Mam Momna.Mam you can choose from Beige 1,2,3.

With the help of shade card on our website you can select the best shade for your skin.

I dont know which base would suits my complection and if i want to exchange the shade it would be possible or not

Mam Asifa.Mam you can choose base one tone lighter than your face tone.

Mam we accept exchange with in 7 days 

My skin tone is fair to medium what shade suits me plzz suggest ...

Shade beige 2 offer you your desired similar shade.

Kindly choose one shade lighter than your skin tone.

You can check our shade cards for swatches.

Which is the best base miss rose or Mac ?

Kindly choose the base which is suitable for your skin.

I will purchase a foundation but I don't know what tone i will select please recommend me my skin is normal slight below fair

Mam shade beige1 is resemble shade.

Kindly choose one shade lighter than your skin tone.

With the help of shade card on our website you can select the best shade for your skin.

my colour is fair which colour is best fr me? ivory 6 light hai ya dark

You can choose Ivory 6 for pink under tone skin or Fair for yellow undetone skin..

I wanna ask if my shade according to kraylon 45then which colour of miss rose are best for me

Beige 1 or Beige 2 can offer you the resemblance of mentioned Shade.

But we suggest you to choose one shade lighter than your skin tone.

How to know the right shade ?

 Shama.Kindly choose one shade lighter than your skin tone for best foundation results. 

For more details kindly whatsappus 0311 11 222 40 

I had ordered full coverage matt foundation the quality of the products is really good but I want to Change the foundation shade.. Is it possible?

Thank you for your feedback Sakina.. We have 7 days exchnage policy. For more details . Kindly whatsapp us. 0311 11 222 40

Is miss rose is halal ?

Yes it is Halal.

Is it for oily skin??

Ayesha. This is For oily skin.

Kon kon sy shades available hain.?

All skin type shades are available. Zunaira,

For any help and queries kindly contact on our official number: 0311 11 222 40 

What shade will suit me i have normal asian colour.......

Shade beige 1 is for normal to sair skin and beige 2 is for normal to dark skin.

For best results, kindly choose one shade lighter than your skin tone.

Which one is good for fair skin?

Shade fair is for fair color. For best results kindly choose one shade lighter than your skin tone.

Is it non comedogenic??? Will it clog poress???

Yes it is non-comedogenic.

I want natural skon tone colour bz my is not so bright or not so dark natural gandumi clr or my skin type is oily so guide me

The shade beige 2 is for midium to dark skin.  For best results kindly choose one shade lighter than your skin tone.

My colour complexion is fair .which colour Foundation suit me

We have fair shade for fair skin tone. .For best results kindly choose one shade lighter than your skin tone.

Normal fair skin tone foundation number please?

Yasmeen shade beige 1 is for normal skin tone. 

For best results kindly choose one shade lighter than your skin tone.

Hi. Meri skin ka colour normal fair hai us kis number ka foundation suit karega plz bata den?

Beige 1 is for normal skin tone.

For best results kindly choose one shade lighter than your skin tone.

My age is 33 mum of two I have pigmentation problem and acny also plz guide me which product and shade suit me?

Hi Mam, Yoou can use silk foundation, it's good for all skin types. For fair skin, it's best to choose shades that are fair or ivory. For the medium skin tone, beige 1 and 2 are good choices, while beige 3 and 4 are better for darker skin tones.

Moreover, yellow undertones, recommended shades include fair, beige 1, and beige 3. For those with pink undertones, ivory, beige 2, and beige 4 are good options.

Which foundation is good for combination skin

Hi Mam, silk foundation is good for all skin types.

fair clr k lye kn sa shade hai?

We offer both fair and ivory shades that are suitable for fair skin tones. The fair shade is meant for yellow undertones while the ivory shade is meant for pinkish undertones.

Which shade suits me as my skin tone is in yellow tone. I've checked my wrist veins, they are a mix of both, purple and green which means I've a neutral skin tone. I'm confused between beige 1,2 and fair.Kindly suggest my shade.

Hi mam, 

ivory and beige 2 both shades are for cool undertone, Ivory shade is for a fair undertone and beige 2 shade is for a  medium skin tone. 



My shade is CN-IVORY IN CHRISTENE FOUNDATION STICK so what would probably be my shade And secondly my skin is dry so would you suggest this matte full coverage foundation

Mam, Matte foundation is for oily skin tone, You can use liquid foundationfor dry skin type.

For fair skin, it's best to choose shades that are fair or ivory. For the medium skin tone, beige 1 and 2 are good choices, while beige 3 and 4 are better for darker skin tones.

Moreover, yellow undertones, recommended shades include fair, beige 1, and beige 3. For those with pink undertones, ivory, beige 2, and beige 4 are good options.



Is beige 1 is yellowish or pink shade??or beige 2 ki kya shade hai yani pinkish or yellow? Kindly reply me?

Hi Mam,The beige 1 shade can be used if you have a yellow undertone, while the beige 2 shade is best suited for a pinkish undertone.


Muje medium to fair skin k liye chaiye to konsa num choose krun?

Ma'am beige 1 is for meduim to fair skin.

Sir light skin clr ha or undertone yellow ha us KY liy Kon sa shade thk rhy ga , concealer or foundation donu ka shade btay

You may select shade fair for foundation and concealer.

Mera clour gandmi h knsa shade lon mn beidg 2 thk h

Yes, Mam.

Suggest foundation for winter and daily use

Kindlt tell us your skin type so we can guide you about.

Asian brown complexion and acne prone skin what shade should I buy

Ma'am shade beige 3 and beige 4 is for brown shade. For more details kindly whatsapp us our team will suggest you the shade.

Miss rose matt r foundation m mjh 45 Wala shade chahye to konsa hoga ??

Kindly tell us youe skin tone so we can guide you about it.

i want a yellowish tone foundation,is "beige 2" suitable to give this shade?

We offer both beige 1 and beige 2 shades that are suitable for normal skin tones. The beige 1 shade is meant for yellow undertones while the beige 2 shade is meant for pinkish undertones.

Please tell me which foundation is best for oily skin

Matte foundation is best for oily skin tone.

Mere skin normal h na dull na zyada fair lakin I have also li8 acne spot aswell to kindly suggest me shade..

We have beige 1 and beige 2 for normal skin tone.  You may use concealer for acne spot with foundation.

Is there any foundation for oily skin?

Yes, oil free strong cover foundation. Matte foundation. Matte new foundation. Oil free foundation. These all for oily skin tone.

For wheatish skin which foundation is hood i mean shade

Ma'am beige 1 and fair both shade has yellow undertonr. Kindly tell us your skin so we can guide you the shade.

If i order some different products so will i pay delivery charges of every product or not?

No. Delivery charges appled in just 1 cart if the purchasing is less than Rs 2000/-

I have extream fair skin with pink under tone..which shade suits me perfect..I also have oily and less acne probe skin

We offer both fair and ivory shades that are suitable for fair skin tones. The fair shade is meant for yellow undertones while the ivory shade is meant for pinkish undertones.

mare skin type normal ha so plz guide me?

For normal skin type you may use silk flawless foundation.

Light konsi skin k liye hy & kis undertone k liye.. White skin k liye kiya hy

Ma'am ivory6 is for light cool skin tone.

plz recommend me some daily based BB cream

You may use our missrose perfect cover bb cream.

i want to change my foundation shade

Kindly mention your order number so we can guide you about.

Mri skin oily or acne prone or sweaty hy makeup melt ho jta hy to mai apki konc foundation buy kru or mra colour fiar hy shade bhi guide kr den plz

For oily skin we suggest you to select our strong cover oil free foundation.

My skin is dry and normal color means not fair not dull which colour should i order please help me 😊

We have shade beige 1 and beige 2. for normal skin tone.

Biege3 and light colour me konsa deffrence he?

Mam beige 3 dark shade ky lea use hota hai.

Mera face clr fair hai but chaiyan b hain kon sa suit kry ga??

Ma'am frinckles ky lea ap concealer use kijea fair shade main.

What is the discount code

Our sale is live. You may place order with out any code.

Hi I have normal fair skin tone Kindly tell me which will be best and I don't want pinkish

We have beige 1 shade for normal to fair skin tone.

Sialkot ma delivery krty hai?

Yes, We deliver all across the Pakistan.

Mera rang sanwla hy plz me Kon sa shade use karon ?

We have beige 3 and beige 4 for dark skin,

Oily skin k Liye Kon sa best hai foundation?

Matte foundation or oil free foundation is best for oily skin.

Is base ki light or fair shade m kia difference h?

Ivory 6 has a pink undertone and Fair has a yellow undertone.  both are for fair skin tone. We hope this helps!

I have warm undertone with pigmentation and acne marks.which shade is best for me

Mam we have shade beige 3 in matte foundation for warm skin tone. But for pigmentation we suggest you to select sconcealer.

I have a white skin tone so which shade i should buy and plz mention exact shade and number bcz i can not select exact shade or one lighter tone shade than my white tone skin

Ma'am we would appreciate, if you could mention your undertone. It will be easy for us to suggest you the shade.

Is it nonoxidizing

No, but Ensure you select the right shade of foundation that matches your skin tone and undertone. Test it in natural light to get an accurate match.

Light or fair shade m kia difference ha?? Or y base dry skin pr b lga skty kia??

Mam is foundation main 2 shade hain fair and ivory6. Fair yellow fair skin ky lea hai jbky ivory6 pink fair skin tone ky lea hota hai.

I have weatish color with oily skin. Suggest me about the shade of foundation

Select shade fair for fair wheatish skin and for normal select beige 1.

For oily skin recommend me

For oily skin select matte foundation.

My skin is oily so tell me which type of matte foundation I use

Mam you can use 

 

My skin type is oily, not so much but have oily skin so kon c foundation suit kry gi? Silk flawless or matte???

Mam if you have not to much oily skin you may go for silk foundation.

I have fair skin colour with yellowish tone which shade suitable for me

Mam we have fair shade for fair yellow under tone skin.

Mne Natural 1 shade use Kia tha is base Ka lakin ab natural 1 shade available nhi ha wo kb tk restock hoga ya uski jaga konsa shade use Kia jay ivory 6 n fair ye dono suit nhi kiay mje

Mam shade fair resemble with natural 1. We will restock natural shades soon.

It is official website of miss rose

Yes, This is our official website.

Sir mujhy bridal makeup k Liye foundation bta dein plx

Ma'am our smooth foundation, Ture match foundation and matte foundation is best for bridal makeup.

I have skin with fair pink tone. Which shade should I choose for bb cream and this Foundation?

Mam ivory6 is for fair pink color. For more details . Kindly whatsap us. 03330529002.

Natural 1 suits me ...tu begie 2 same shade h natural 1 ki trha

Natural 1 resemble with Fair shade.

I use ivory in any base what shade is best for skin tone from these shades?

Mam if you have fair pink skin you may select ivory6.

Which foundation use on dry skin

Mam liquid foundation is for dry skin.

Medium skin tone sanwli rangt k like konsa shade lunch??

Mam shade beige 3 is for meduim dark color.

Beige 1 mere face pe oxidise hojata hai aur face dark lgta hai. Meri yellow undertone hai. Tou kaunsa shade Hoga Mera??

Mam kindly whstapp us so we can guide you about it. 03330529002.

Which one of your foundation is the highest coverage foundation?

Mam our all foundations are best . But the flawless foundation can be use for highest coverage,

Is ivory 6 for fair shade??

We offer both fair and ivory shades that are suitable for fair skin tones. The fair shade is meant for yellow undertones while the ivory shade is meant for pinkish undertones.

My skin shade is normal fair not too fair.which shade will go with me

We offer both fair and ivory shades that are suitable for fair skin tones. The fair shade is meant for yellow undertones while the ivory shade is meant for pinkish undertones.

Ivory 6 for fair skin send m pic ivory sade

We offer both fair and ivory shades that are suitable for fair skin tones. The fair shade is meant for yellow undertones while the ivory shade is meant for pinkish undertones.

I have used oriflame a to z cream beige color but it is a little darker so which foundation color will now suit I guess beige 2? Is beige 2 yellowish type?

Mam beige 2 has pink undertone. Beige 1 has yellow undertone.

Is it oil free foundation!?

Yes, It is.

which is best for normal skin colour?

Mam shade beige 1 and beige 2 is for normal skin color.

Is it perfect for dry skin??

Yes it is best for all skin type.

I have yellow undertone. I am using beige 1 but when I apply it, it looks my perfect match but after when it oxidises it becomes dark. Please suggest any more brighter shade in yellow undertone.

Mam tell us your skin tone. Is it fair or normal ? so we can able to guide exact shade.

Are these foundations for dry skin type ?? I've medium skin tone with yellow undertone. Would beige 2 be suitable for me??

Mam you may select our natural foundation. Also Beige 1 is for yellow undertone.

I want shade beige 4 mil jaye ga

Yes, Kindly drop your details for order.

My colour is pinkish fair Which shade should I choose

You may choose ivory6 for pinkish fair.

In mai se pink tone ki konsa shade hai

Ivory 6 and beige is for pink undert tone skin.

What is delivery charges in Karachi?

In this sale, we offer FREE Delivery on the purchase of Rs 2000 or above but less than Rs 2000, delivery charges are Rs 200 only.

I have normal skin but its oily which shade should i use?

If your skin is normal yellow you may select beige 1 in matte foundation.

My skin tone is normal like na bht white or na black so which shade is suitable for me?

Mam agr normal yellow skin hai to shade beige 1 use kia ja skta hai. for nuetral skin beige 2 shade ka shade use kia jata hai,

Beigh 1 or beigh 2 ma kya farq ha..medium to fair tone ke liye konsa sahi rahe ga

Beige 1 yellow undertone ky kea hai jbky beige 2  neutral  undertone ky lea hai

Kia hum order krny k baad product change kr skty h mtlb is ka shade shade change kr skty h?

Ma'am kindly send us your order number or contact number which you entered at the time of placement of your order so we would be able to track your order.

I have a normal white skin. Which foundation would be better for my skin?

Ma'am for normal skin tone we fair shade in natural foundation.

My skin too much oily so which foundation i use

Ma'am for oily skin we suggest you to select our matte or strong cover oil free foundation.

Aoa. Please guide kr den base 38 number use ki he foundation konsa shade ho ga..??? Confused 🤔

W,salam. Ma'am Kindly mention your skin tone with undertone. so we can guide you about it.

Aoa. Please guide kr den mn ne kabhi koi foundation buy nhi kia. Base he Kafi purani jis ka number 38 tha. Ab us hisab se konsa shade mere liye thik ho ga??

Kindly apni skin tone mention kr dain taky hum apko shade guide kr sky.

T.v stick me no 38 Jo use krte hn wo kon sa no Len es foundation me...plz bata den

Kindly tell us your skin tone so we can guide you about it.

Sanwali skin pr konsa shade suitable hai ?

beige 4 is for dark skin tone.

Suggest base and primer for acne prone and oily skin

You may select matte foundation with photo finish primer.

ma garnier ki bb cream lgati ho fair complection wali ,maybelline ka foundation 120 lgati ho but miss rose m mra foundation jo summer k lye ho sweat na kry kia shade hoga foundation m? or silky wali bb cream m konsa shade hoga?? plz guide

Shade 120 resemble with fair shade. You may select fair from both.

Its a best for oily skin and which shade is best for medium tone skin

Yes, This is for oily skin. Also beige 1 and beige 2 is for meduim skin tone.

What's the shade for normal skin neither dull nor very bright . My skin is sensitive too

Kindly tell us your undertone and mention your skin tone so we can guide you the exact one.

Which one is best for fair skin tone??

We offer both fair and ivory shades that are suitable for fair skin tones. The fair shade is meant for yellow undertones while the ivory shade is meant for pinkish undertones.

Which shade of concealer should i choose with ivory6.?

Mam shade will be the same.

For norml fair skin which shade is suitable?

We have beige 1 and beige 2 for normal skin tone.

For cool undertone with dull complexion should i use beige 3 or beige 4?

Biege 3 can be used for dull complextion. Kindly whstapp us for more details 03330529002

Mam. Sale kab tak hai?

Limited stock left. This sale will be end soon.

Can I exchange BB cream to this matte foundation

We have 7 days exchange policy. Kindly whatsapp us for exchange 03330529002.

I am using beige 1 but it makes my skin little dark then which shade i should choose and also concealer. Thank u

Select shade ivory for pink skin tone or fair for yellow skin tone.

Oily skin ka lya kn c foundation best ha

Matte foundation is best for oily skin.

Mere skin tone medium hai recommend me the shade

kindly confirm your skin  undertone, so we can help you. Moreover, We have beige 1 and beige 2 for normal skin tone.

Is it good for dry skin ?

Yes, It is for oily skin.

Ab ''LIGHT'' shade available kyun nhi hai?? Fair is too light for me

Ma'am light shade changed with ivory6.

Which one is best for fair colour?

We have fair shade for fair yellow skin tone.

Normal to fair complaxition k liye kn sa shade thk rhy ga??

kindly confirm your skin  undertone, so we can help you. Moreover, We have beige 1 and beige 2 for normal skin tone.

Delivery charges

In this sale, we offer FREE Delivery on the purchase of Rs 2000 or above but less than Rs 2000, delivery charges are Rs 200 only.

Oily skin or normal skin tone k liya kon sa shade sai rhA ga?

kindly confirm your skin  undertone, so we can help you. Moreover, We have beige 1 and beige 2 for normal skin tone.

Which type of base is suitable for dry skin matt or liquid

Ma'am for dry skin you may use. Natural foundation. Smooth foundation and flawless foundation.

Assalamualaikum mam please tell me which foundation is the best best foundation and compact powder for oily skin ?

W,salam. Mam strong cover oil free and matte foundation is best also you may use two way compact powder.

Mjhy ni smjh aa rai k kon sa shade meri skin tone k according ha mera colour fair ha na zyada white na black

Ma'am agr apki skin tone fair hai to ap fair ka shade select kr skti hain.

for which skin tone beige 2 foundation is used

Beige 2 is for medium dark skin tone.

Please guide me, I have fair and warmth skin which shade is best for me?

We offer both fair and ivory shades that are suitable for fair skin tones. The fair shade is meant for yellow undertones while the ivory shade is meant for pinkish undertones.

I'd like to know which shade will suite me well? I'm neutral toned.

For normal skin tone you may select beige 1 for meduim to fair, and  for beige 2 meduim to dark skin.

I neutral skin tone which shade suits me better in matt foundation?i use light shade in bb cream which gets oxidised,and also suggest me 1 shade lighter then my skin tone as you mentioned to every1.

Mam we request you to contact us on whatsapp so we can guide you about it 03330529002.

How to choose this.. I am. Confused

Kindly tell us your skin tone so we can guide you about it.

Ivory 6 average clr k liye sai ha ya ni? Plz guide me

We offer both fair and ivory shades that are suitable for fair skin tones. The fair shade is meant for yellow undertones while the ivory shade is meant for pinkish undertones.

Makeup k baad face gray ho ata hai konsa sahi rhe ga foundation

Kindly tell us your skin tone so we can guide you about it.

Ye oily skin kay liay best hay?

Yes ma'am.

Mara colour completion fair ha mujy Kon Sa colour suite kary Ga kindly guide me Or ak chez or mujy garmi ma sweat bht ata ha mri base bht jaldi khrb ho jti ha kindly mujy is tra Ki base recommend kary Jo grmi ma fix rahy or base khrb na ho face say

Ma'a, this matte foundation is best for oily skin also it is sweat proof. Select fair shade on it if you have fair yellow skin.

Mere skin dry hai TU main ye foundation lu k nhi?

No, This is for oily skin tone. You may select your Moisturising foundation.

Mera colour fair h bi or nai bi tu konsa lun?

Ivory 6 has a pink undertone and Fair has a yellow undertone. They're both meant for fair skin tones. Hope this helps!

Is this good for oily skin

Yes, Ma'am

Kindly suggest any foundation for daily use for oily skin type but it should not turn grey after applying. Suggest foundation colour as well my skin colour is normal not very fair nor dark

You may select matte foundation. Select shade beige 1 for yellow skin or beige 2 for pink skin. Both is for normal skin tone shade.

Beige 2 is for?

Beige 2 has pink skin tone. it is for normal skin tone shade

Beige 2 is yellow or white

Beige 2 is for pink skin. It is for normal skin tone shade

Which is lighter shade than beige 1

Mam  shade fair is lighter than beige1.

Ma'am neutral undertone or light skin color k Liye konsa shade ho ga

Mam, kindly whatsapp us so our team can guide you the shade  033305290052

Is there any changes of restocking ivory 6 during sale

Ivory6 shade has been back on stock. Pleace your order now,.

Oily skin k liye Kon c best ha foundation plz help me?

Mam oily skin tone ky lea best foundation matte foundation and oil free foundation hai .

Mera gandmi complexn hai fs 45 uz krti tv may kn sa shade suit kry ga mujy

Mam kindly whstapp us ( 03330529002)  our team will guide you the shade for skin tone.

Which would be suitable for me i have oily skin and white tone

Mam we have fair shade for fair yellow skin tone and ivory6 for pink tone. You can select shade as per undertone.  For more details kindly whataspp us. 03330529002

Please guide me meri skin bht zyada fair nhi hai but dull bhi nhi hai normal baby skin hai is k liye konsa shade best hoga mujhe light sa yellowish shade chahiye..

Mam beige1 is for normal skin tone.

Main medium+neutral undertone ki hu mai konsa shade use karu

Kindly whatsapp us for your shade 03330529002

Shades Beige 1 and 2 are used for which skin tone?

Both is for normal skin tone shade.

Is it miss rose official page because I can also see another page on Google so plzzz can you confirm it??

Yes, You are in right place. this is our official page.

I ordered ivory 6 and beige 1 matt foundation but they both look dull on me.. Which shade should i buy?

Mam if you have fair skin tone select shade fair for fair skin tone.,  

Kindly whstapp us for more details 03330529002

If i use the full coverafe matter foundation in Fair shade then which concelor will be suitable? My skin is dry

The concealer shade will be same of Fair.

Kindly tell me about beige 1 and beige 2 shade which one is for yellowish undertones and which is for pinkish undertones

Select shade beige 1 for yellow skin or beige 2 for pink skin. Both is for normal skin tone shade.

Kindly whstapp us for more details 03330529002

Oily skin hai pasina bht ata hai konsa shade suit kry ga

Mam you can select our matte foundation.

Which foundation and concealer would be suitable for me?dull complexion

Kindly whstapp us for more details 03330529002

I have a medium tone ...A bit natural yellowish which shade should i choose???

Select shade beige 1 for yellow skin or beige 2 for pink skin. Both is for normal skin tone shade.

Kindly whstapp us for more details 03330529002

Fair shade kab available ho ga

Fair shade is available. You can place your order now.

How to edit our order i ordered beige 1 but i need fair

Kindly mention your order number so we can check the details .

My skintone is of medium color and undertone is warm which foundation shade suits me?

Select shade beige 1 for yellow skin or beige 2 for pink skin. Both is for normal skin tone shade.

Kindly whstapp us for more details 03330529002

I am adding ivory6 but in cart its showing beige2, why?

We are sorry for the issue.  Mam kindly whstapp us ( 03330529002)  our team will  place order for you.

Mera colour blkl normal h .. Like gundumi rngat...na bht fair na bht dull...so what's you suggestion ...which beige shade I've to use?m confused

Select shade beige 1 for yellow skin or beige 2 for pink skin. Both is for normal skin tone shade.

Kindly whstapp us for more details 03330529002

Assalam o alaikum! I have fair complexion..but i have ordered beige 2 shade by mistake..is it ok for fair colour??

W,salam Mam if you have fair shade . Beige 2 will be dark for you , Kindly send us yor order number so we can change it bwefore dispatch.

Assalam o alaikum.. i have fair complexion but by mistake i orderd beige 2 shade..is it ok for fair skin...??

W,salam. If you have fair skin tone you have to select shade fair., Kindly send order number so we can change it.,

which foundation is suitable for green viens

Mam kindly whstapp us ( 03330529002)  our team will guide you the shade for skin tone.

Suggest me any foundation for acne prone and oily skin

We suggest you to use our oil free or matte foundation

How can i know which is for my skin?

Select shade beige 1 for yellow skin or beige 2 for pink skin. Both is for normal skin tone shade.
Beige 3 and beige 4 has dark skin shade.
Ivory 6 has a pink undertone and Fair has a yellow undertone. They're both meant for fair skin tones. Hope this helps!

Which foundation shade is suitable for me? I have asian complexion

Select shade beige 1 for yellow skin or beige 2 for pink skin. Both is for normal skin tone shade.
Beige 3 and beige 4 has dark skin shade.
Ivory 6 has a pink undertone and Fair has a yellow undertone. They're both meant for fair skin tones. Hope this helps! 
For more details kindly whatsapp us. 03330529002

I have dry skin and fair skin tone so it's good for me or not? If yes then which shade i selected??

Mam for dry skin select full cover or silk flawless foundation for normal skin tone. For more details kindly contact us on 03330529002

Matte foundation is okay for oily skin?

Yes this is best for oily skin .

Ye oily skin Waly use kar sakhty hn Kiya

04 shade is for your desired shade.

Ye oily skin k liye hy?

Yes ,this is for oily skin tone.

I have fair Pinkish skin tone which foundation shade is suitable for me?

Ivory 6 has a pink undertone and Fair has a yellow undertone. They're both meant for fair skin tones. Hope this helps!

Aoa meri skin oily ha or normal skin tone ha i means na zada fair ha or na e dark skin ha to meri skin k hesab sy knsa shade hoga

W,salm,  Select shade beige 1 for yellow skin or beige 2 for pink skin. Both is for normal skin tone shade. For more details kindly whstapp us. 03330529002

is Beige 1 Shade Ok for Normal to Fair skin Tone? and does it Oxidies?

Mam oxidizing happen when shade is not matched with skin tone. If you have fair to normal skin than you can select fair one.

Assalamualaikum is this matte foundation is best for dry skin?

Mam this matte foundation is for oily skin tone.

Which shade is used for white complextion?

Ivory 6 has a pink undertone and Fair has a yellow undertone. They're both meant for fair skin tones. Hope this helps!

When my parcel received when I see shipping details?

Kindly confirm your order number or the contact number that you have entered so we can track your order.

Which color foundation is suitable for full fair color with oily skin?

Ivory 6 has a pink undertone and Fair has a yellow undertone. They're both meant for fair skin tones. Hope this helps!

Delivery charges bata den ???

Delivery is free on the purchasing of Rs 2000 or above but less than Rs 2000, delivery charges are Rs 200 only.

Beige 1 concealer ky sath konci shade foundation ki best he

Beige 1 concealer ky sath beige 1 ka he foundation bi use hota hai .

Meri skin normal hai baby type skin hai ... mjhe yh foundation suit karega kiya...kyunk maine suna hai yh foundation dry kardeta face ko ?

Mam Ap ki skin agr to oily hai phir ap isko use kr skti hain agr apki skin normal hai to apko flawless silk foundation lena chaea.

Maine video mei dekha k yh foundation dry skin nhi use kr skty????

Mam Agr apki skin tone normal to oily hai to ya use ki jati hai.

Yeh foundation konsi skin type k lye hai ???

Mam ya oily skin ky lea use ki jati hai.

Is it best for oily skin type ? Which powder amd concelar shade go with beige 1 shade plz gudie me

Mam matte foundation is best for oily skin . You can go with shade  01 of compact and the shade beige 1 of concealer. 

Is this foundation use for dry skin?

Mam this foundation is for oily to dry skin tone.

Is it good for dry skin ?

Mam this is good for oily to dry skin tone.

Which shade for medium to dull skin?? Inshort sanwala rang

Hi. You can select shade Biege2.

For normal fair skin which shade is best fair or ivory

Ivory 6 has pink undertone and fair has yellow undertone.  both is for fair skin tone. 

Ivory 6 and beige 1 difference? For which skin type?

Select shade beige 1 for yellow medium skin. 

Ivory 6 has pink undertone for fair skin tone. 

 

Normal skin with yellow tone ka lia kon si shade ho gi

Select shade beige 1 for yellow skin or beige 2 for pink skin. Both is for normal skin tone shade.

Can you suggest me yellow foundation shades for oily skin?

Select shade beige 1 for yellow skin or beige 2 for pink skin. Both is for normal skin tone shade.
Ivory 6 has pink undertone and fair has yellow undertone.  both is for fair skin tone. 

Beige2 kis complexion k liye use hta hy

Beige 2  normal to dark skin tone ky lea use hot hai

Asslamoilkum . mujye is foundction ka colour samj nhi aa rha k kasye choice kro . plzz help

W,salam 

Select shade beige 1 for yellow skin or beige 2 for pink skin. Both is for normal skin tone shade.

Beige 3 and beige 4 has dark skin shade.

Ivory 6 has pink undertone and fair has yellow undertone.  both is for fair skin tone. 

Select shade as per your skin color. 

Is it good for dry skin?

No, This is for oily skin tone.

Hi My shade is from normal to liitle bit fair.. I tried beige 2 but it was so yellow on my skin. So which shade should i use? And what is the light shade of beige 1?

Mam you have to select fair shade for your skin tone. 

Fair is the lighte shade of beige 1 

Is beige 1 also for yellowish tone?

Yes, Beige 1 has yellow under tone.

I have olive/yellow undertone with medium-dark skintone, what shade should I use?

Select shade beige 1 for yellow skin or beige 2 for pink skin. Both is for normal skin tone shade.

Meri skin fair Tone me h me apny liye Knsa purchase krun?

Ivory 6 has pink undertone and fair has yellow undertone.  both is for fair skin tone.

I ordered beige 2 foundation ..but it does not match my skintone.. So what is your return policy.. Kr how can i exchange shade of foundation.bcz now i think beige 1 will suit me. Kindly must reply me

Mam we have a 7 days exchange policy. But kindly make sure that product should be packed.

In case of replacement, the customer pays delivery charges for both sides.

Kindly whatsapp 03330529002 us the picture of invoice paper and product for exchange

I have double toned skin with acne which shade should I use

I suggest you to use 1 tone lighter concealer first to hide your dark spots and then apply a foundation shade as your skin shade.

For normal skin tone knsa shade order kry?

Select shade beige 1 for yellow skin or beige 2 for pink skin. Both is for normal skin tone shade.

Hii ! Kya mera order change ho skta hai mujhe fair nhi ivory 6 shade chahiye please bta de mujhe ke ye change ho skta hai

Kindly confirm your order number or the contact number that you have entered so we can track your order.

I have Bought ivory 6 but it is still dark for my skin then which shade Should I select that must ybe fair from ivory?

Ivory 6 has pink undertone and fair has yellow undertone.  both is for fair skin tone.

Mera order kab Tak aye ga mujhe eid se pehle chahiye Kya eid se pehle he mil jaye ga???? 🥺

Kindly confirm your order number or the contact number that you have entered so we can track your order.

Mera shade beige 1 hai q k mera complexion normal hai tou mai yehi shade lon ya ivory lon or grey na ho agr mai lighter shade lon pls guide kren mjhy eid se pehly order krna hai

If the shade  beige 1 is suits on your skin tone you have to select beige 1 for your skin tone.

which shade for normal fair but slight spotty skin?

Ivory 6 has pink undertone and fair has yellow undertone.  both is for fair skin tone.

Which shade beige 1 or beige 2 will be great for yellowish wheatish skin tone ?

Yes, Select shade beige 1 for yellow skin or beige 2 for pink skin. Both is for normal skin tone shade.

 

Dry skin k liye knsi foundation achi ha?

You can select any liquid foundation for dry skin.

Please reply me abhi Tak reply nh Mila mene order krna h yee Thora guide kare please 🥺

Kindly whatsapp us so we can guide you 03330529002

Meny kafi bar fair shade select kr k add to cart kia lakin hr bar beige shade add ho jata hy fair ki jaga... Fed up with this... Fix the problem

Kindly whatsapp us so we can place an order for you. 03330529002

Meri tone yellowish or pinkish mix haii??? Please reply me

Select shade beige 1 for yellow skin or beige 2 for pink skin. Both is for normal skin tone shade.

Beige 3 and beige 4 has dark skin shade.

Ivory 6 has pink undertone and fair has yellow undertone.  both is for fair skin tone.

Karachi delivery chargis k sath kitni ki hogi matt foundation?

Delivery charges Rs 200 hain or agr apka order Rs 2000 ki purchase hai hai to delivery free hai . Or delivery 3-4 working days main ho jati hai .

for dull sakin shade?

Select shade beige 1 for yellow skin or beige 2 for pink skin. Both is for normal skin tone shade.

Beige 3 and beige 4 has dark skin shade.

I am Nigerian not so fair .which shade can I use.

Select shade beige 1 for yellow skin or beige 2 for pink skin. Both is for normal skin tone shade.

Beige 3 and beige 4 has dark skin shade.

Ivory 6 has pink undertone and fair has yellow undertone.  both is for fair skin tone.

I have fair skin i choose fair shade.so which shade i should select in conceler?

The shade of concealer and foundation will be same.

Can I send my face colour for choosing Foundation

Select shade beige 1 for yellow skin or beige 2 for pink skin. Both is for normal skin tone shade.

Beige 3 and beige 4 has dark skin shade.

Ivory 6 has pink undertone and fair has yellow undertone.  both is for fair skin tone.

Can I send my face colour for choosing Foundation

Select shade beige 1 for yellow skin or beige 2 for pink skin. Both is for normal skin tone shade.

Beige 3 and beige 4 has dark skin shade.

Ivory 6 has pink undertone and fair has yellow undertone.  both is for fair skin tone.

Which foundation is suitable for me?I have normal skin clr na dull ha na fair h

Select shade beige 1 for yellow skin or beige 2 for pink skin. Both is for normal skin tone shade.

My skin is oily and acne porn which foundation best for me full coverage matte or only matte foundation, there are a lot of foundation I am confused which one I should select

We suggest you to select matte foundation for your self.

From which animal is the stearic acid obtained added in your foundations?!

Our product are crulty free.

My skin color is normal which one is best

Select shade beige 1 for yellow skin or beige 2 for pink skin. Both is for normal skin tone shade.

Which foundation is best for dry skin

Mam Full cover or liquid and natural foundation is best for dry skin tone.

Mam mri skin oily h and compelection b gandumi clr s dark h means medium drk knsi base num suit kry ga

Select shade beige 1 for yellow skin or beige 2 for pink skin. Both is for normal skin tone shade.

Beige 3 and beige 4 has dark skin shade. Kindly select one tone lighter then your skin tone. 

Beige 2 color for which complexion? Kindly tell me.

Beige 2 is for meduim pink under tone skin.

Is this matte is good for oliy skin in summers?

Yes, this is best for summers.

Assalam o alaikum sir marii skin normal to faur hai to mary leya konaa shade best rahy ga kindly bta dein...

w,salam You have to select fair shade.

Do you guys have any outlet .

We had an outlet but we closed our outlet in Safa Gold Mall, Currently, we provide services online. 
You can have your desired products on your doorstep.
You can visit our website

Asalm o laikum product selection mai masla ho rha Mai select fair wali krti hun lkn order beige2 ho jati

W,salam Kindly whatsapp us for your order 0333 0529002

Is it suitable for dry skin?

No, it is for oily skin tone.

Which shade is lighter than Beige 1?

Ivory 6 is lighter than Beige 1.

Mera normal clr hy or kuch nishan bhi hy plz baten main matte main kon sa clr lon

Select shade beige 1 for yellow skin or beige 2 for pink skin. Both is for normal skin tone shade

Alag alag products py alag alag delivery charges lgein gay?????

No, Mam charges ak parcel py apply hoty hain . Ap apni mrzi ki products add to cart kr lain. or complete shipping details and complete order py click kry.

Is this water proof??

Yes, Its is.

Mam kya ivory 6 shade k sth natural o4 concelar use ho skta h?? Or mra clr fair h mgr bht zyda ni to kya ivory shade thk h mri skin tone sth???

Ivory 6 Pink fair undertone ky lea hota hai . For your shade kindly whatsapp us 0311 11 22 2 40

Beige 7 shade available Hy?

No, beige shade is dark color .   As pwe pakistani skin last dark shade which is used is beige 4.

which shade is compatiboe with maybelline 120?

ivory 6 shade resemble with 120 shade.

سانولی رنگت پہ کونسا فاؤنڈیش لینا چاہیے نمبر بتائیں

Beige 3 and beige 4 has dark skin shade.

My skin is gandami tone and oily which shade is best for me

Select shade beige 1 for yellow skin or beige 2 for pink skin. Both is for normal skin tone shade.

Beige 3 and beige 4 has dark skin shade.

Select shade beige 2  for meduim to sark skin tone.

Ivory 6 has pink undertone and fair has yellow undertone.  both is for fair skin tone.

Is to go well for dry skin ?

No It is for oily skin., For dry skin select our liquid foundation.

Is it possible it's delivered tomorrow in karachi

Mam delivery takes 3-4 working days for karachi,

Kitna long lasting hy ye

Mam is main full day coverage formula hai . All day stay krta hai .

I use fs45 in kryloan which shade in this matt suits me

Select shade beige 1 for yellow skin or beige 2 for pink skin. Both is for normal skin tone shade.

I have been using your concealer in shade beige 1 so meri foundation be beige 1 hi hogi key mujje beige 2 pr move krna hoga? I am bit confused

No, You foundation will be same.

Is ivory 6 a pinkish coverage? I mean is it for a pinkish skin tone

Yes ,

I have fair and oily skin so which foundation and colour suits me??

Mam you can use our Natural foundation.

Plsss tell me maii konsa shade use kru maii concealer normal 3 use krti hu. Foundation konsi lu?

Mam same shade ka concealer bi hi ga . Ap beige 1 select kr skty hain.

Which shade of loose powder is best with matte foundation Ivory 6

Mam shade 10 is best .

Aoa my skin CLR is fair which shade of foundation should I choose plz guide me and how much delivery charges?

Mam we have shade Fair is for fair yellow skin tone.   Mam we offer free delivery on the purchase of Rs 2000 . & less then Rs 2000 it will be Rs 200 only.

i want to buy but mujhe in k expiry jana hai?

Mam hmary product ki shelf life 3-5 years ki hoti hai

Upper pics dekhain is ma jo fair k bad light name ka jo shade ha ye mje chahiye???

Mam fair ky bad ivory 6 hota hai. Order place krny ky lea ap humy whatsapp bi kr skti hain  0311 11 222 40

Fair color k lye knsa lo

Mam shade fair fair yellow skin tone ky lea hota hai

Mugh ko mare ton ka hisab sa konsa no lena chya plz

Mam apni skin tone sy ak tone light seelct kijea ga.

Second thing k fair pink tone k liye kia shade hoga

Mam Fair pink ky lea shade ivory 6 bhtr rahy ga.

Muje ye foundation light shade ma chahiye, mle gi?

Hi Mam. The lightest shade is fair for yellow skin and the ivory for pink shade.

I have fair colour...which shade z best for me??

Mam for fair color we have fair shade of  foundation

Concelar mein dull shade kon sa hai?

Mam beige 4 sb sy dark shade hai

I have medium skin tone which shade suitable for me?

If you have meduim yellow skin tone . Kindly select shade beige 1 .

Which foundation shade is sutiable for me?l have wheat color

We have fair (yellow) and ivory6(pink)  shade for fair skin and beige 1 and beige 2 for normal skin tone. 
We suggest you to select a shade one tone lighter than your Skin tone

Agar thora fair complection dena ho to konsa shade sai rahay ga? Like Na zada white ho aur na dull. Please suggest me perfect shade

Mam shade beige 1 is for meduim skin tone also for your shade kindly whatsapp us. 0311 11 222 40

Yay foundation kitnay hours stay kerta hay?

Mam ya all day stay krti hai

Beige 2 is my skin color. What foundation shade should I chose?

Mam beige 2 shade can be used.

My skin tone is normal neither too fair nor too dull...what shade should i choose?

Mam we have shade beige 1 for normal skin tone. For your shade kindly whatsapp us  0311 11 222 40

Fs 38 stick use krti ho is ki jgha kin sa nbr use kr skty or Ivory ki jgha b btaya ga

Mam Fs 38 resemble with ivory6 shade.

Is this oxidized

Mam Oxsiding happens when customer doesn't choose the suitable formula of foundation for skin type or selects improper shade of foundation for skin tone.

Pigment skin with fair color. Which bade or foundation suits?

Mam select this foundation in shade fair ..

How to use code for discount?

Kindly Go to ' VIEW CART' and click ' CHECK OUT' after that enter your details,
There is an option  "DISCOUNT CODE'.  You can  put code on it and get a discount. Code should be mentioned in capital letters.

I want the lightest shade....plz suggest me the shade

Mam the fair is the lightest shade.

Can I use it on dry skin?

No this is for oily skin. for dry skin,  select our silk foundation.

Maira complexion normal hai mjhy konsa shade laina chye

Normal skin ky lea beige 1 (yellow) and beige 2 (pink )  shade use kia jata hai

My color is fair but I want some pinkie which shade?

Mam if you have fair shade select ivory6 and if you have normal shade select beige 2 ...

Inwant beige 3 foundation nd a one shade lighter concealer

kindly whatsapp for order 0311 11 222 40

Hello there! When will shade light be restock??

Mam the light shade is Fair you can select it .

Kindly mujhe shade smjh nhi aa rha k kon sa select krun kyun k Yeh foundation oxides bhi hoti hai tou kon aa best ho ga warm undertone h meri aur medium dull complexion

Dear Mam koi bi foundation tb ixsidize hoti hai jb uska shade skin sy match na kry . Kindly humy whatsapp py contact kijea exact shade ky lea  0311 11 222 40

How to maych shade to skin tone..?

You can select shade with the help of shade card or contact us on whatsapp, 0311 11 222 40

My skin tone is normal which clr suits on me

Mam we have beige 1 for normal skin color,

Please guide me I have pale complexion oily skin i want natural look ju pale color ko cover kry ivory b use kia h or begie b but natural look nh aati also guide me face powder bb cream and foundation

Aine, Kindly whatsapp us for your shade 0311 11 222 40

my skin tone is normal ...which shade i choose ?

Beige 1 (yellow) and beige 2 (pink)  is for meduim skin tone. Kindly select shade according to your under tone.

Delivery charges?

We offer FREE Delivery on the purchasing of Rs 2000 or above but less than Rs 2000, delivery charges are Rs 200 only.

I need foundation for oily skin kindly suggest me

Mam the matte new foundation is best for oily skin.

Can you plz tell me concealer shade with ivory foundation which is 1 and 2 shade lighter than it for cool undertones I have ordered natural 2. But it doesn't hide my dark circles

Shade ivory 6 is resemble shade of your foundation.

Salm i have fair complexion with yellow under which shade should i use that doesnt deoxidize and become dull with time plz suggest ?also my skin is super oily in this hot humid weather which one should i buy the matte one or oil free one

We sugguest you to select oil free foundation for super oily skin. And the shade fair is resemble shade of your skin.

Your are showing ur timeline ur recent sales.but when we select any shade it appears as sold out is it fake

Mam due to sale some products are sold out . Kindly whatsapp us your desired products so we can guide you about it, 0311 11 222 40

Black spots ko hide krny k Leay knsa shade best rhyga.? Asian complextionn

We suggest you to select concealer 2 tone lighter shade than you foundation shade.

I have near neutral undertone and medium range skin color ... Last time I bought beige 1 but after some time it become gray do you have any suggestions which one should I choose this time?

Dear Mam we sugguest you to select a tone lighter than Beige 1 . It is Fair,

How can I order these products???

For placing an order you can add to cart your desired shade or contact us on whatsapp 0311 11 222 40

Beige 1 k sath konsa concealer shade best hy...??

Beige 1 foundation ky sath concealer bi bege 1 ho ga ya ap Natural 3 select kr skty hain.

My colour is not dull nor fair which shade would be fine

Mam for meduim skin tone we have shade beige 1 and beige 2. For best resuld kindly select 1 tone lighter than you skin.

Fair shade is for which kind of skin

Fair shade is for yellow undertone fair skin.

I have normal skin undertone.which shde is for me ?

The shade beige 1 is for normal to fair skin tone.

Mera color sanwala haii Usk liye kon sa foundation use ho ga?

Mam Sanwaly color ky lea shade beige 3 use kia jata hai. For exact shade details. Kindly contact us on our official whatsapp number 0311 11 222 40

I have fair skin with cool undertone can u tell me foundation shade for it

Mam you can select shade ivory for cool under tone

Beigi 3 fair skin tone py use ho skhta h?

No Mam. Beige 3 ak dark shade hai. Fair skin ky lea shade fair use kia ja skta hai.

Which one is best for Medium skin tone pink or yellow?

Mam for pink meduim skin tone use shade beige 2 & for yellow skin select shade beige 1 .

plzz tell me beige 1 is in piinkish tone or yellow? yellow tone suits me before this i ordered beige 3 but it does not suit dark + pink

Good Morning.Thank you for contacting us. Mam shade beige 1 has for yellow under tone also this shade is used for medium skin tone.  For more details you can contact our official helpline or whatsapp 0311 11 222 40

Which shade is lighter beige 1 or fair.

Good afternoon. Thank you for approaching us .

Mam beige 1 is one tone darker than fair. 

Kindly whatsapp us for more details. 

0311 11 222 40 

Normal skin ke leye kn sa shade use ho ga

Good Morning. Thank you for approaching us Mam.
For medium skin tone we have beige 1 (yellow ), Beige 2 (Pink ) Shades 

For best result we suggest you to select a shade one tone lighter than your Skin tone

You can lso contact us on our official contact number for more details ... 0311 11 222 40