Regular price
Rs.899 PKR
Sale price
Rs.499 PKR
Unit price
per
Sale
Sold out
100% Original Miss Rose

Same-Day Order Dispatch

Love it or Return it
What it is: 
Matte foundations help the oil on the skin disappear and also smoothes over those large pores to hide them."
What it does: 

Matte finishes offer no shine and look dry on the skin, making them ideal for certain skin types. Best for combination or oily skin.  It can reduce the appearance of pores and won't look greasy. Undetectable and seamless for that everyday lightweight feel.Excellent waterproof, nourish the skin, smooth wrinkles and fine lines , make skin delicate and makeup long-lasting.

Why You'll Love It:
Non-comedogenic.

Ideal for oily skin.

Light weight & smooth

Matte finish touch

Mimic the look of skin

Oil free foundation
How to Use:
Apply to the face and blend with fingertips, beauty sponge, or foundation brush.
Share
View full details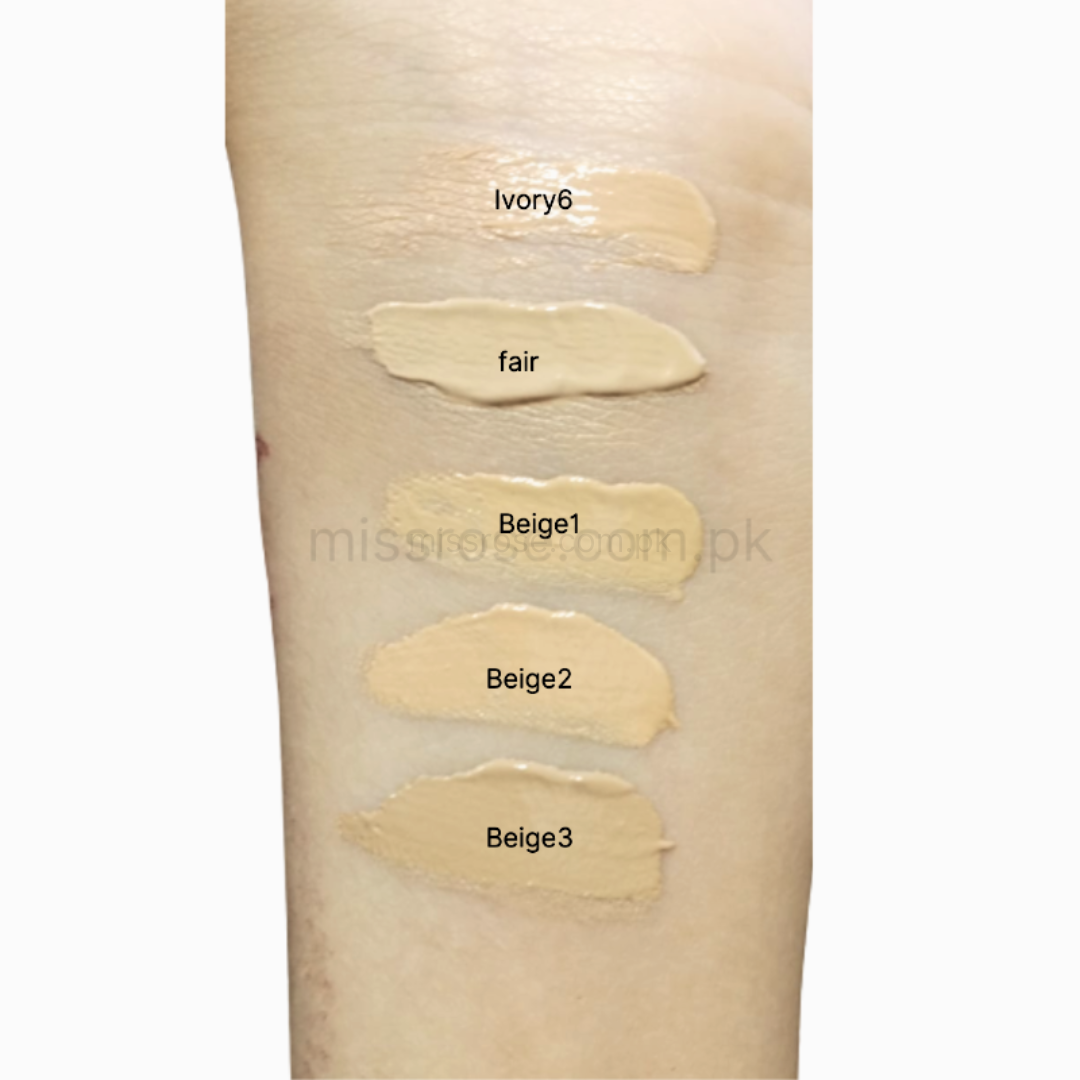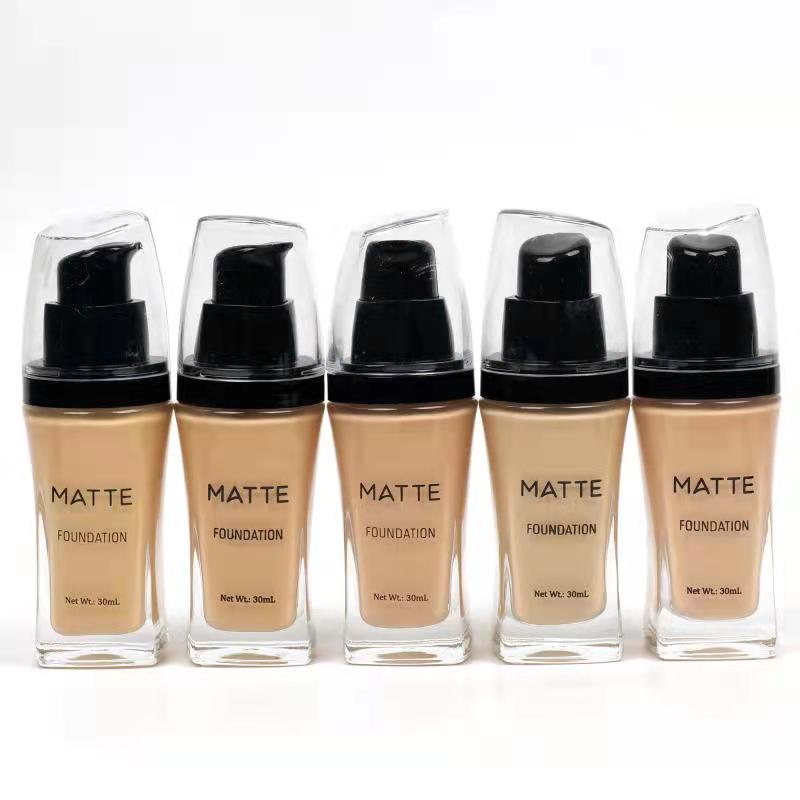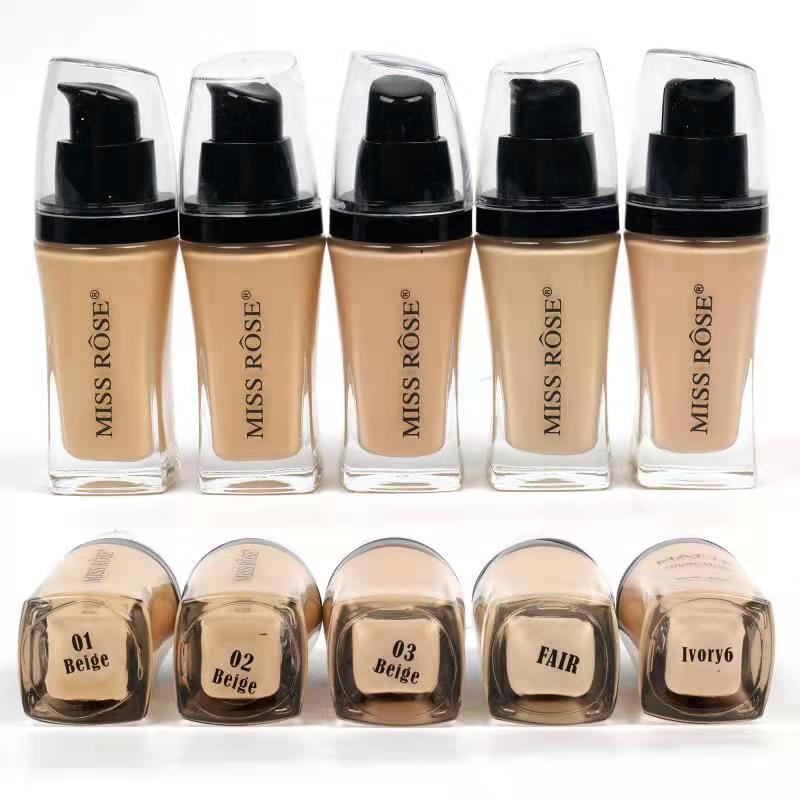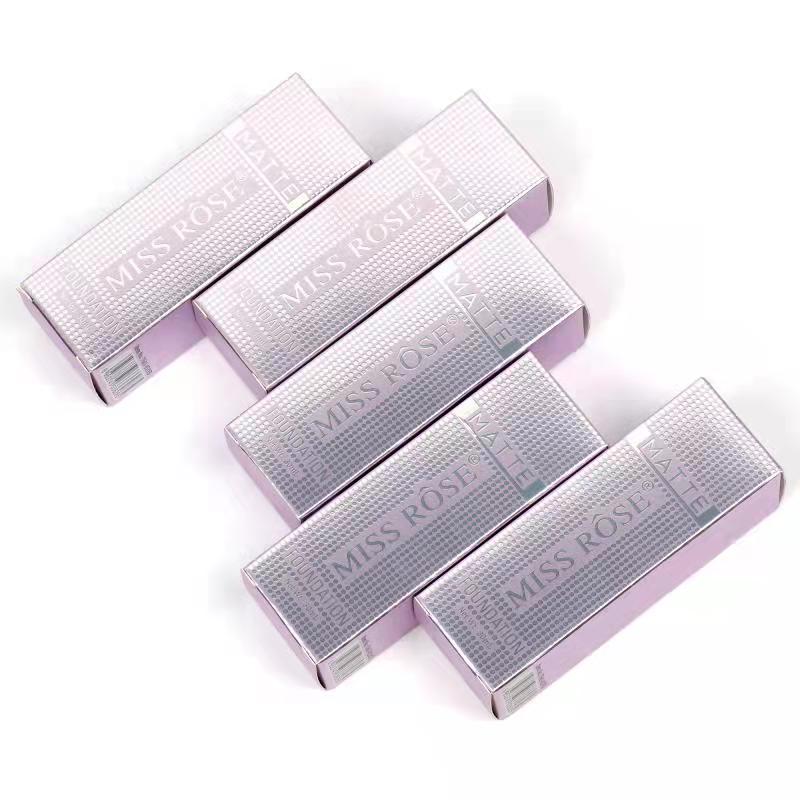 I have medium to light tone which shade is best for me?

Hi mam, For fair skin, it's best to choose shades that are fair or ivory. For the medium skin tone, beige 1 and 2 are good choices, while beige 3 and 4 are better for darker skin tones.

Hi. Have oily and acne-prone skin with normal pale skin tone. Which shade is best for me??

For pale skin tone you may use beige 1.

Dry skin k liye Konsa foundation best hai in winter

Ma'am for dry skin select Hd foundation or liquid foundation.

For normal brown skin color which shade is best? How much time will be required to receive parcel

Mam for nomal brown skin we have shade beige 3 . Also delivery takes only 3-4 working days for daelivery.

Medium brown skin tone

Beige 3 and beige 4 is for brown shade.

For fair skin tone not so fair but fair and oily skin ... Which shade i select for my skin .. i want natural and pinkish tone ...

Ivory 6 has a pink undertone and Fair has a yellow undertone.  both are for fair skin tone. I hope this helps!

How can i find my skin tone colour?

Kindly tell us your skin tone so we can guide you about it.

normal skin type ar normal skin clr k lya kn si best ha?

For normal yellow you may select shade beige 1 and for nutral  you may select shade beige2.

How can we select shades for skin tone?

Kindly tell us your skin tone so we can guide you about it.

Sir Sanwale Rang k loye bta de

Mam shade beige 3 and beige 2 is for dark color.

Do you have an exchange policy? Because i am not sure what type of skintone i have.

Yes , We have 7 days exhcnage policy.

What is the difference between the new and old matte foundation?

New matte foundation is  with advance matte formula.

How i choose my shade? I am confused

Kindly whatsapp us so we can guide you about it. 03330529002.

Which one is more light. Beige 1 or 2

Beige 1 is light

Which shade is best for oily and normal skin?

We have beige 1 and beige 2 for normal skin tone.

This is waterproof?

Yes this is waterproof.

Beige 2 is for medium skin tone?

Yes Mam.

Is it full coverage

Yes, Ma'am.

Is this full coverage foundation?

Yes,.

Ivory 6 is it for natural look for all type skin my skin not fair but not dull should choose ivory 6

Mam ivory6 is for fair pink undertone. Can you please mention your undertone so we can guide you the shade. 

Aoa My color is skin plz let number shade plz.

W,salam. Kindly tell us your skin undertone so we can guide you about it.

Have u branch in multan

No, We haven't any outlet anywhere.

Which shade best for oily and dull skin

Mam beige 3 is for dull skin tone.

My skin color is not dark or not fair which shade I should use..?

kindly confirm your skin  undertone, so we can help you. Moreover, We have beige 1 and beige 2 for normal skin tone.

Ivory shade is suitable for which type of skin fair, normal or dark?

We offer both fair and ivory shades that are suitable for fair skin tones. The fair shade is meant for yellow undertones while the ivory shade is meant for pinkish undertones.

Ivory shade is suitable for which type of skin fair ,normal or dark?

We offer both fair and ivory shades that are suitable for fair skin tones. The fair shade is meant for yellow undertones while the ivory shade is meant for pinkish undertones.

I have combination skin and fair color. Kindly guide me for select the best foundation in your collection

You may select our silk flawless foundation.   Ivory 6 has a pink undertone and Fair has a yellow undertone. They're both meant for fair skin tones. Hope this helps!

Can i reorder means change the shade of foundation because by mistake i select wrong one

Kindly mention your order number so we can guide you about it.

Which shade is best for warm undertone. Kindly guide.

If you have a warm skin tone. Then go for fair shade for fair skin  & beige 1 for normal.


Kindly whstapp us for more details 03330529002

Hey. I want to order 6 matte foundation with different shades . How can I order?

Kindly add to cart all your desired shades and check outs. Or whstapp us for order 03330529002

Is it good for dry skin or is it good in summer jis k bad sweat na aye

It is best for oily skin tone for summers.

Have u branch in bhawalpur city?

We used to have an outlet in Safa Gold Mall, but it's closed now. No worries though, we're totally online! You can get whatever you need to be delivered right to your doorstep. Just go to our website or use this link to place your order. https://missrose.com.pk/

Ivory 6 ?? Kis tone k lie h ?? Or oily skin waly use kr skty ??

Yes, ya oily skin ky lea foundation hai or ivory6 fair oink skin tone ky lea hai  ..

Is this good for summer

Yes, it is best for summer .

I have oily skin and I want full coverage look to hide my blemishes. Which foundation is best for me?

Matte foundation is best for you .

Hello? I want to ask my skin tone is normal. Should i select beige 1 for normal skin tone? Ya mujy one shade light choose krni chahiye beige 1 se? Please guide?

Agr apki skin tone normal to fair haio to fair shade use kia ja skta hai or agr normal to dark hai to beige 1 can be use.

My skin type is combination which foundation is best for daily use ( For university going Sara din dhop main hota tu us hisab se batiye ga )?

You have to select our matte foundation or Natural foundation for daily use.

Can u stock this plz as soon as possible?

Hi. This is available . Kindly place your order.

Shade for yellowish skin tone??

Select shade beige 1 for yellow skin or beige 2 for pink skin. Both is for normal skin tone shade.

Beige 3 and beige 4 has dark skin shade.

Select shade beige 2  for meduim to sark skin tone.

Ivory 6 has pink undertone and fair has yellow undertone.  both is for fair skin tone. 

in how many days i can received my order??? isb based

Delivery takes 3-4 working days after placing an order. 

 

I have fair skin which shade is suitable for me?

Ivory 6 has pink undertone and fair has yellow undertone.  both is for fair skin tone. 

Ye oxidized hoti h?

Mam foundation tb oxsidize hoti hai jb wo skin tone k mtabiq na ho. ap apni skin tone ky mtabiq shade select kijea.

If you have a bit tan skin which shade will be suitable

For tan skin select beige 3 or beige 2.

For normal skin tone should i use beige 1

Yes you can use beige 1

How can choose the best shade? I choose wrong shad every time ease help!!

Mam select exact shade or 1 tone lighter of your skin tone. For more details kindly whatsapp us. 0311 11 222 40

For a dull skin tone which shades goes with me??

For dull skin tone shade beige 3 and beige  4 is available.

I have fair skin, which shade is suitable for my skin?

We have fair shade is for fair skin tone.

Please tell me when available

Sure, We request you to turn on notify option for your desired soldout products or shades so you can get alert message on restocking