Regular price
Rs.799 PKR
Sale price
Rs.550 PKR
Unit price
per
Sale
Sold out
100% Original Miss Rose

Same-Day Order Dispatch

Love it or Return it
What it is:
 What makes foundation smooth?
In order to achieve a totally smooth face makeup look, you'll want to apply your foundation and concealer of choice using a makeup Foundation , like the Miss rose Smooth Foundation. Using this Foundation to Hide your blemish, Pores Etc to out will make for a super smooth makeup .
Why You'll Love It:
Oil-free
Does not cause acne

For all skin types
Stay-true color, 
Non-fading/non-streaking/non-caking/non-settling
Provides immediate and long-term moisture, 
Long-Lasting

Waterproof
Dermatologist tested
How to Use:
Starting with your nose, start blending the foundation into your skin with the tip of the brush or sponge. Work in small areas to spread the foundation. When you're finished with the nose, move on to the cheeks, spreading and blending the dabs of foundation.
Share
View full details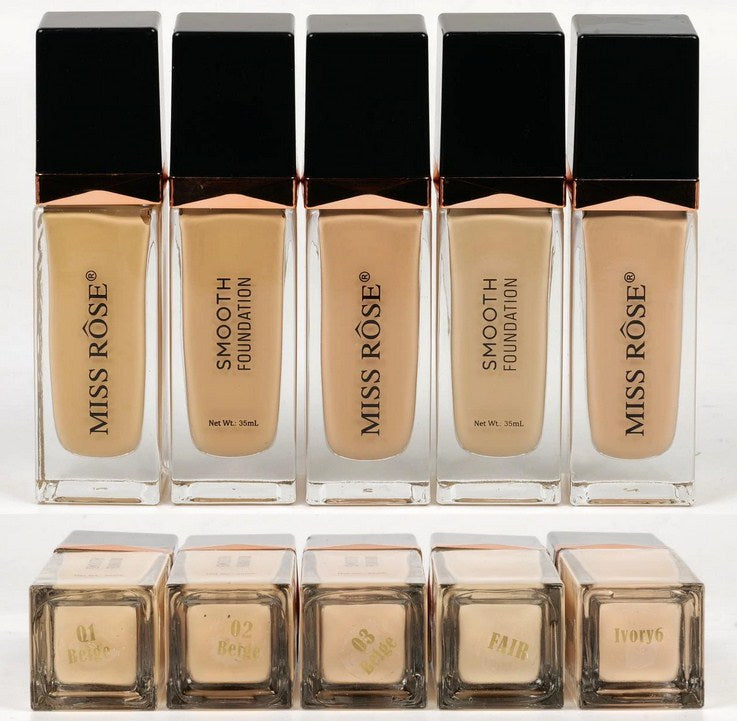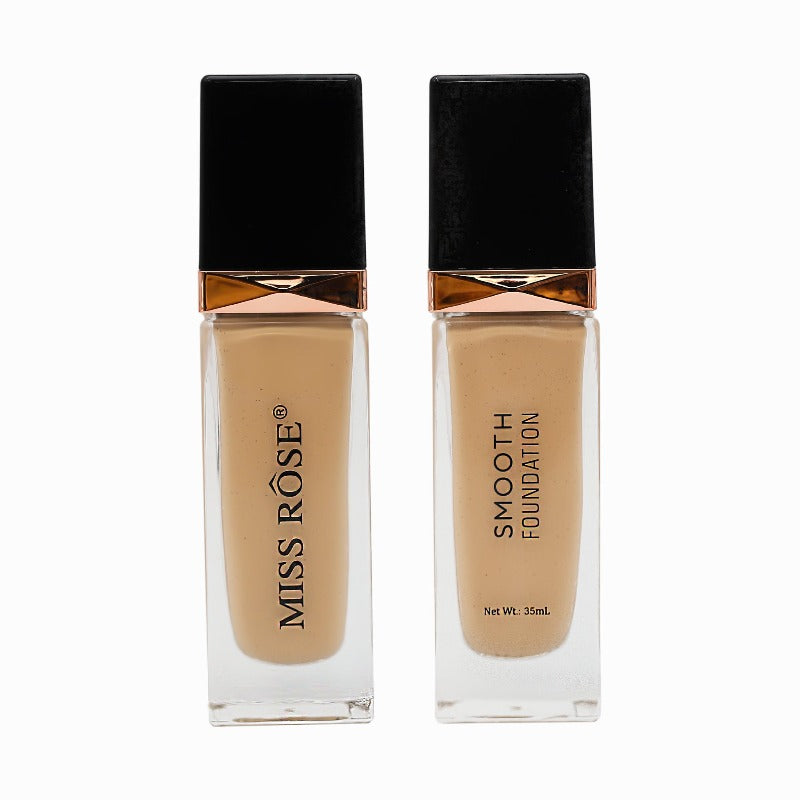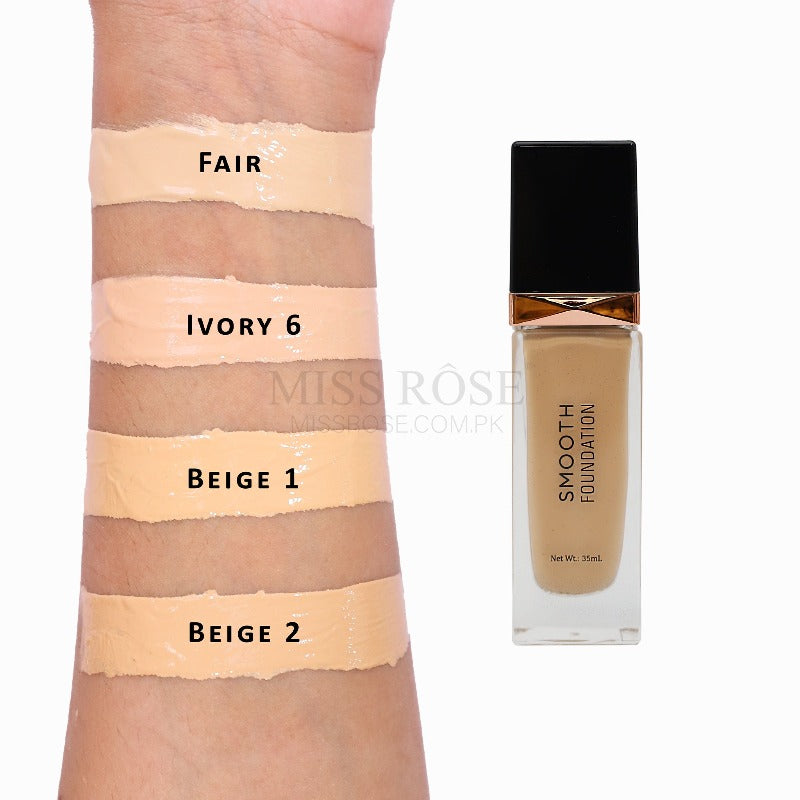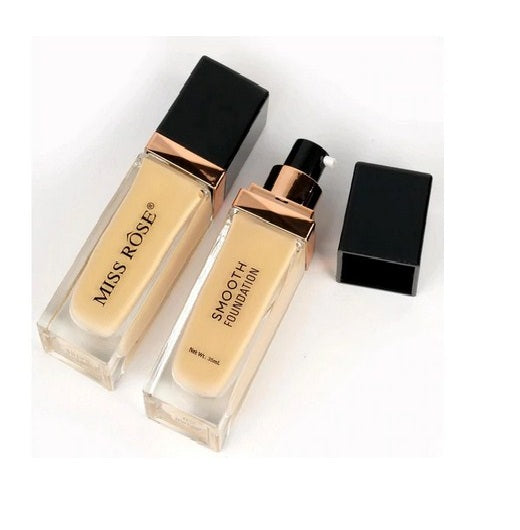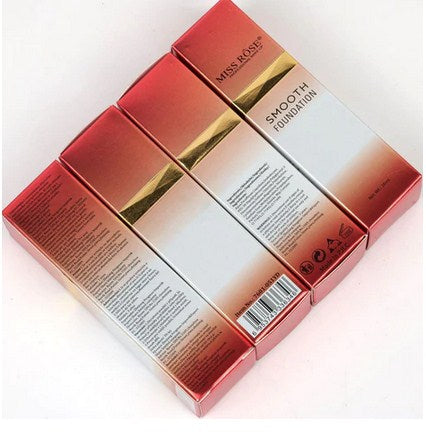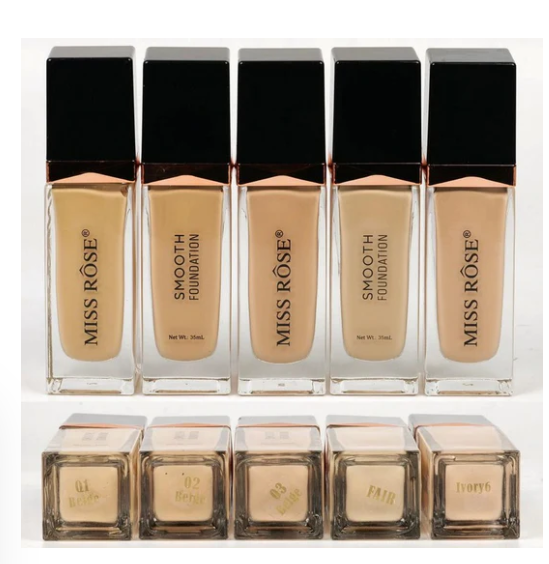 which foundation or bb cream is best for dry skin..?

Our bb cream is for all skin type, You can use full cover foundation for dry skin.

Which foundation is best for dry skin My skin is dry Matte foundation is not suits me

Mam full cover foundation is best for dry skin tone.

Which foundation is best from you entire range??

All the foundation is in best selling. but you can select as per your skin types and desired.

Mera order ab tak nh aya why

Kindly confirm your order number or the contact number that you have entered so we can track your order.

Difference between beige 1 shade and ivory shade

Beige 1 is for meduim yellow skin tone while ivory 6 is for pink fair skin tone.

What is the shade for tan skin tone

Select shade beige 1 for yellow skin or beige 2 for pink skin. Both is for normal skin tone shade.

Beige 3 and beige 4 has dark skin shade.

Ivory 6 has pink undertone and fair has yellow undertone.  both is for fair skin tone.

delivery charges kitna ha?/

In this sale, we offer FREE Delivery on the purchase of Rs 2000 or above but less than Rs 2000, delivery charges are Rs 200 only.

I want smooth foundation shade fair when itz restock!?

We will restock it soon.

I use ivory shade 120 in fitme which shade should i select in missrose foundation

You have to select ivory6 shade.

My skin tone is natural which foundation is best for me

Hi. You can use any foundation of missrose for your skin type.

Which concealer is good with fair foundation

Select shade fair .

Salaam please let me know how to know your undertone is it pink or yellow also tell with beige 1 of this foundation which concealer and compact powder will go..

If you can see your veins, you may be able to use their color to identify your undertone. For example, if your veins look greenish, then you may have warm undertones. People with blue or purplish-looking veins usually have cooler undertones.


For concealer select beige 1 but for compact select 01 shade 

Whats the difference between this foundation and miss rose purely natural foundation...is this much better than acne and spots skin pr the natural foundation..

Both foundation are best and good for all skin tpe. The smooth 1 has light weight formula.

mam mje foundation choose krne me bht problem ho rhi can you please help me mra skin color normal to fair he aap plese sugest kre

Select shade beige 1 for yellow skin or beige 2 for pink skin. Both is for normal skin tone shade.

Beige 3 and beige 4 has dark skin shade.

Ivory 6 has pink undertone and fair has yellow undertone.  both is for fair skin tone. 

I want to buy foundation for extremely dry skin?

Mam this smooth foundation is best for you.

Oily skin or combinationskin ky liya koi foundation bta dyen best

Mam . Natural foundation is best option.

Dilevery changes kitne hn

Delivery is free on the purchasing of Rs 2000 or above but less than Rs 2000, delivery charges are Rs 200 only.

Assalamualaikum mere skin bht dry hai or clr b fair hai mje foundation compact powder or concelor k Bry Mai bta dy

Mam this foundation is best for you. For more details kindly whatsapp us 0311 11 222 40

Mam mera t zone oily he or color fair he .mre liye kn c foundation shade achi rhy gi or concealer shade and compact b btaiye ga plz

Mam you can select our two way compact powder and liquid concealer  with this foundation. for more details kindly wharsapp 0311 11 222 40

I want to buy foundation... Please suggest me for dry skin.. I want such foundation that after applying my skin also glow.. And my skin color is fair

Mam Liquid foundation is best for dry skin . For more details kindly whatsapp us. 0311 11 222 40

Mera complexion fair ha but acne marks and frackle ha kon sa shade use karo?

Mam agr apki oily skin ha than ap matte foundation use kr skti hain. Agr normal skin hai to ap ya foundation use kr skty hain.

What shade is good for dark complexion?

Mam, Shade beige 4 and beige 3 is for dark skin tone shade.

Mayri skin sensitive hy acni ho jatay hy skin complexion fair hy kon sa shade use karo

For sensitive oily skin we sugguest you to select the shade Fair of matte foundation. Kindly inbox us for more details

Is it good for dry skin?

This is best for all skin types.

I have a fair skin tone but have dark circles and now my skin is tanned specially forehead which foundation and concealer is better to use kindly guide and tell your sale is only online or in store?

This foundation is the best choice for you. Use concealer 1 or 2 tone lighter than your skin tone for hide dark circle and tanned skin.

beige 2 shade kis trha ki skin tone k liy hai?

Mam, Beige 2 normal to dark skin tone ky lea use hota hai..

What is discount code ??

Dear Mam. All products are already on discount sale. But for more details you can contact us om pur official contact number . 03 11 11 222 40