Regular price
Rs.1,299 PKR
Sale price
Rs.899 PKR
Unit price
per
Sale
Sold out
100% Original Miss Rose

Same-Day Order Dispatch

Love it or Return it
What it is:
MISS ROSE Zero Pore Primer is a refreshing gel texture  that allows the skin to breathe easily. It makes the skin smooth and delicate, while hiding the pores and controlling the smooth feeling. It absorbs fat-containing oil control powder to reduce fine lines and keep fine & protects the skin from external make-up and damage invisibility. It makes makeup easy to fix and long time laser.
Features:
Oil-free
Nutritious
Waterproof
Moisturizer
Long-lasting

How to use:
1. Apply the right amount of the emulsion 
2: Fingers of both hands to wipe out the emulsion is open from the inside, the end of eye nose and other details of the place can be repeatedly pressed to the skin smooth, even complexion
 3: The remaining fingers lightly coated latex face in the eye, allowing the eye makeup is more docile
MISS ROSE Prolong Makeup Primer 

Type: Makeup Primer
Brand Name: MISS ROSE
Model Number: 7701-024M
Size: Full Size
Ingredient: Mixed
Certification: WZTZ
Quantity: 1piece
Benefit: Waterproof / Water-Resistant
Share
View full details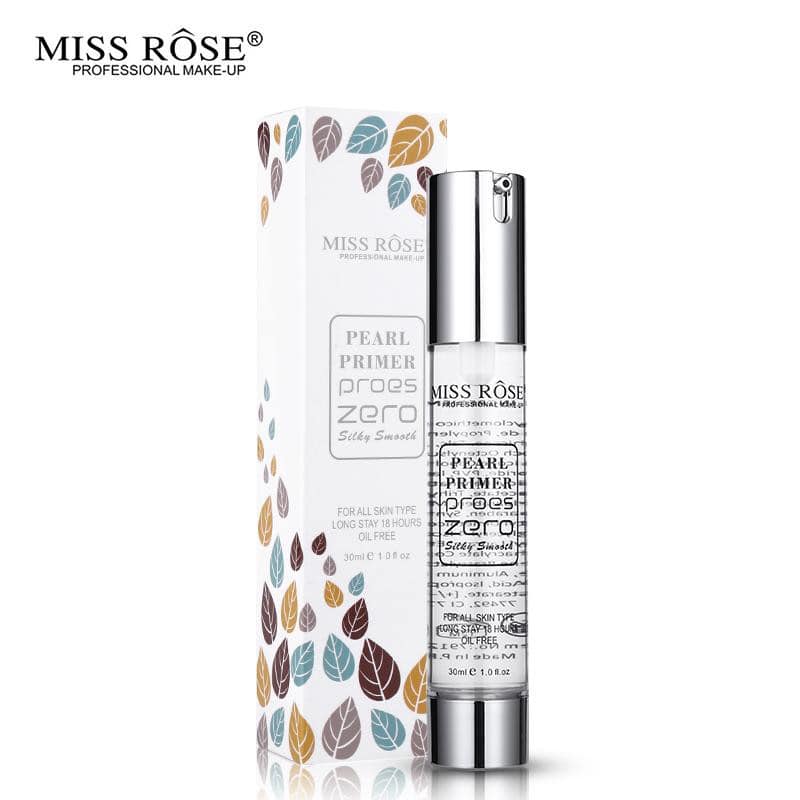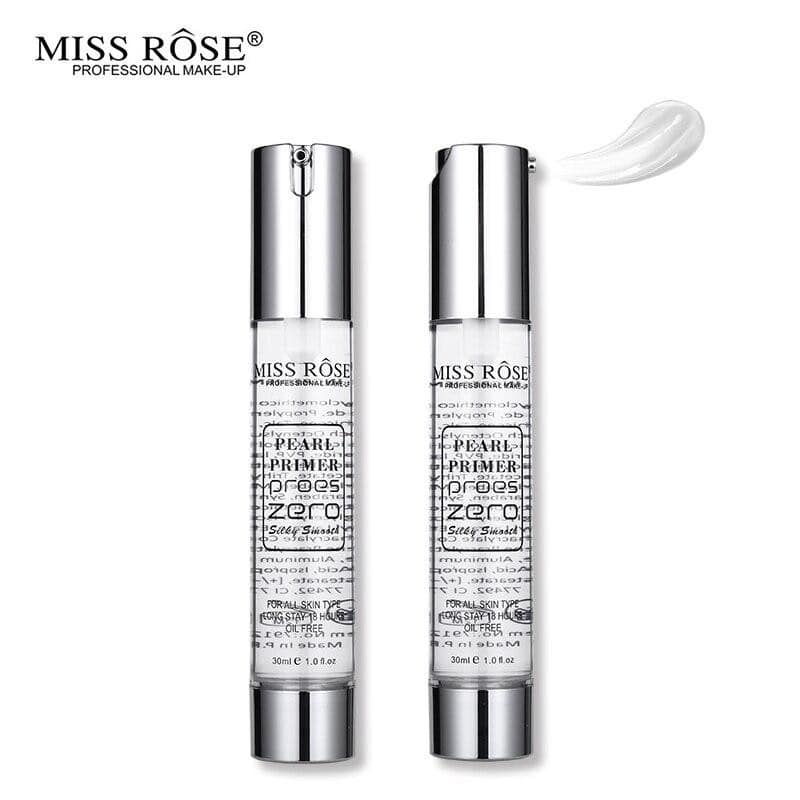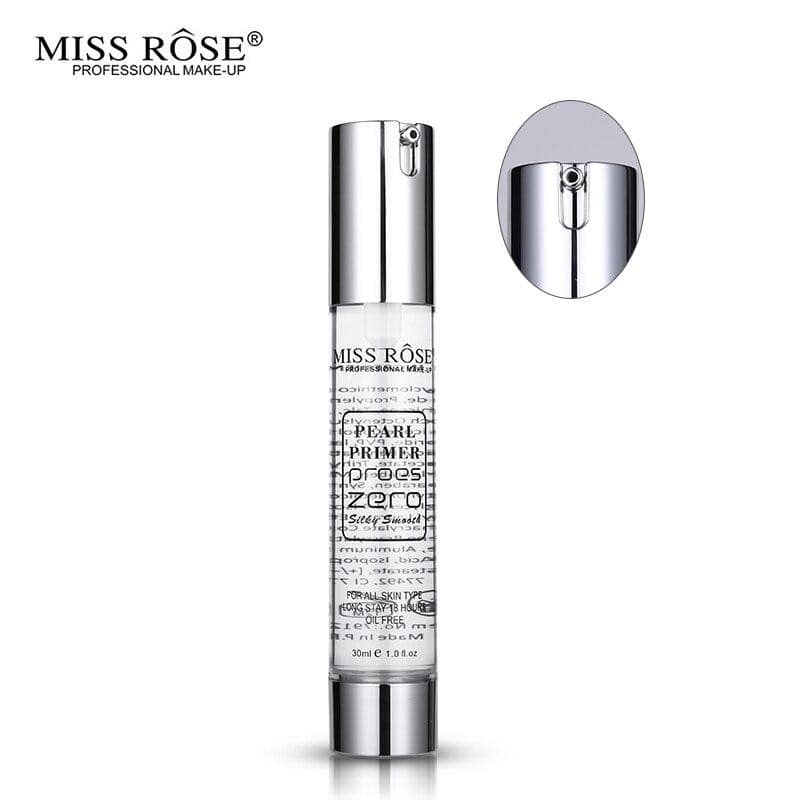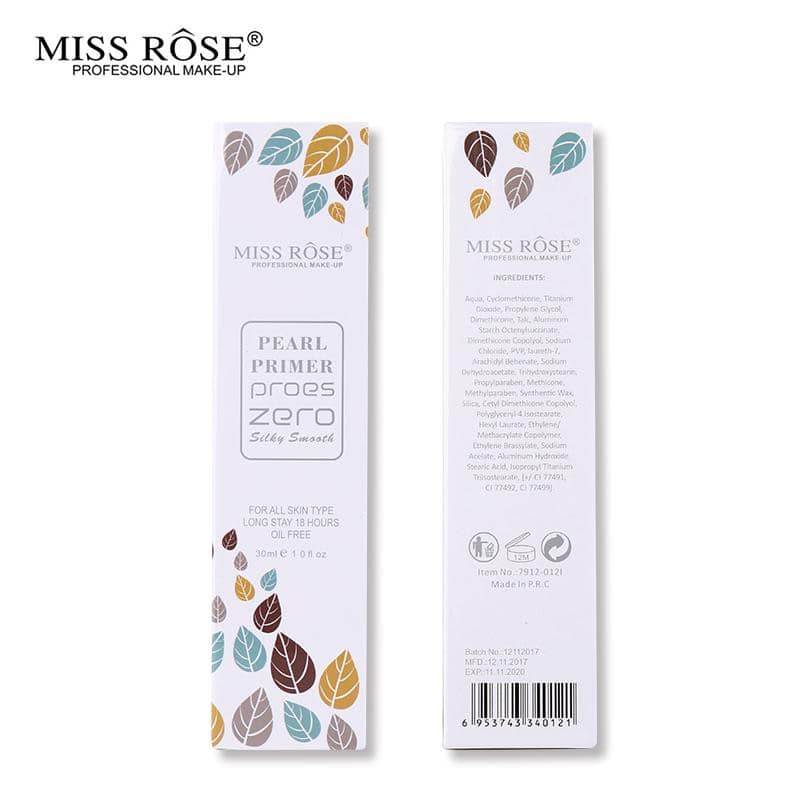 Ye oliy skin ke liye hai ???

Yes it is best for all skin types.

Is it 25ml?

it is30 ML.

My skin is very dry and big open pores.so which one primer is best for me?pearl primer zero proes / or/ photo finished primer?

You can use this primer for pores.

Does it stop sweatng?

Yes, it is. 

For more details kindly contact us on our official whatsapp number 03111122240

 

Not for dry skin?

Yes Mam zero pore primer is good for all skins. its a oil-free and hydrate the skin for a long last

Dilevery Charges kitny hain?

Delivery is free on the purchasing of Rs 2000 or above but less than Rs 2000, delivery charges are Rs198 only.

Quantity ktni h?

It is 30 ML

What is the difference between photo finish primer and zero proes primer? Which is suitable for oily skin?

Zero pore primer is oil free and Long lasting and control powder to reduce fine lines 

 

I am from Karachi I order miss roes 0 pore primer kUB TAK Deliver hoga

After placing  delivery  takes 3-5 working days.

Now foundation is available or not and also concelret

We have restocked some products.  Kindly whatsapp us for details. 

0311 11 222 40 

Dry skin k ly kesa rhy ga

This is best for all skin type. You can place order on our official  whatsapp0333 0529002
 

very limited stock left. 

Is it for every type of skin??

Yes, it is for every skin type. 

Whats the price pls let me know

Mam pricess are mentioned with available products.

Whn it'll b restockd?

Thank you for your patience Unza.We will restock it soon.

Price?

The prices are mentioned with available products on page.

Is it oil control ??

Yes, It is oil control primer.

My skin is oily and acne prone. I also have a lot of sweat on my face and cheeks which ruines my makeup Does this primer will suit me??

Yes, This primer has oil free formula which is control sweating and oil.

How much delivery charges

Delivery is free on the purchasing of Rs 2000 or above but less than Rs 2000, delivery charges are Rs 200 only.

Does this primer is suitable for acne skin?

Yes. This is best for all skin types.

If I order today (Monday Night), when will I receive the order? I need it for Friday. Can it be delivered before that?

Yes. Delivery takes 3-4 working days. But make sure address should be correct and contact number is active because rider will contact you for your address details.

Let me know when it's restock

We request you to turn on notify option for your desired products and shades so You can get alert message on restocking

Kya ya primer ab bh mil sakta ha

Yes you  can place an order.

Is primer ki expire date kitne hai.

Mam hmary product ki shelf life 3-4 years ki hoti hai

What is the expiry of this product?

Mam Our peoduct shelf life is for 3-4 years.