Regular price
Rs.599 PKR
Sale price
Rs.299 PKR
Unit price
per
Sale
Sold out
100% Original Miss Rose

Same-Day Order Dispatch

Love it or Return it
MISS ROSE Square Liquid Concealer instantly conceals and diminishes unwanted imperfections, Wrinkles, fine lines, acne, pore issues, redness, discoloration, freckles, tattoos, rosacea, age spots, scars, birthmarks, dark circles under the eyes and so much more
What you need to know:
MISS ROSE Square liquid gold Concealer formula is suitable for all ages and all skin types, including dry, oily, or combination skin. It is waterproof. It gives fast, easy, and flawless results in minutes!
Within minutes you can achieve an even, flawless, soft natural look that's perfectly blended to match your skin tone
How to choose concealer shade:
For the under-eye area, be sure to select a shade of concealer that's no more than one or two shades lighter than your natural skin tone to avoid an obvious white circle around the eye area. For your face, select a concealer that matches the color of your foundation exactly.
How to apply concealer:
1. Apply several dots of concealer under the eyes close to the lashes. Apply a dot to the inside corners of the eyes.
2. Using the pad of your middle finger or your brush, tap in the concealer (always tap, never rub). Make sure to blend well. 
3. Apply concealer on other uneven spots on the face — including the chin, and around the nose and mouth if need be — and tap in.
4. Apply another layer if you need more coverage.
5. Dust fine, loose powder over your face to set your concealer. 
* You should always apply concealer on top of your foundation so it doesn't smudge.
"MISS ROSE products are a cruelty-free brand"
⭐ Our products are NOT tested on animals. "We Love Animals"
"ENJOY THE MISS ROSE SHOPPING EXPERIENCE"





Share
View full details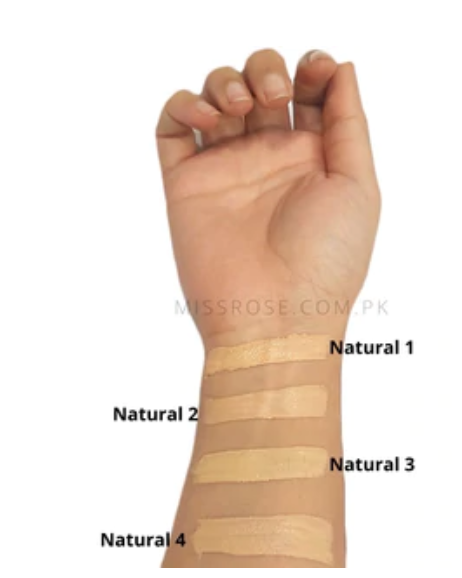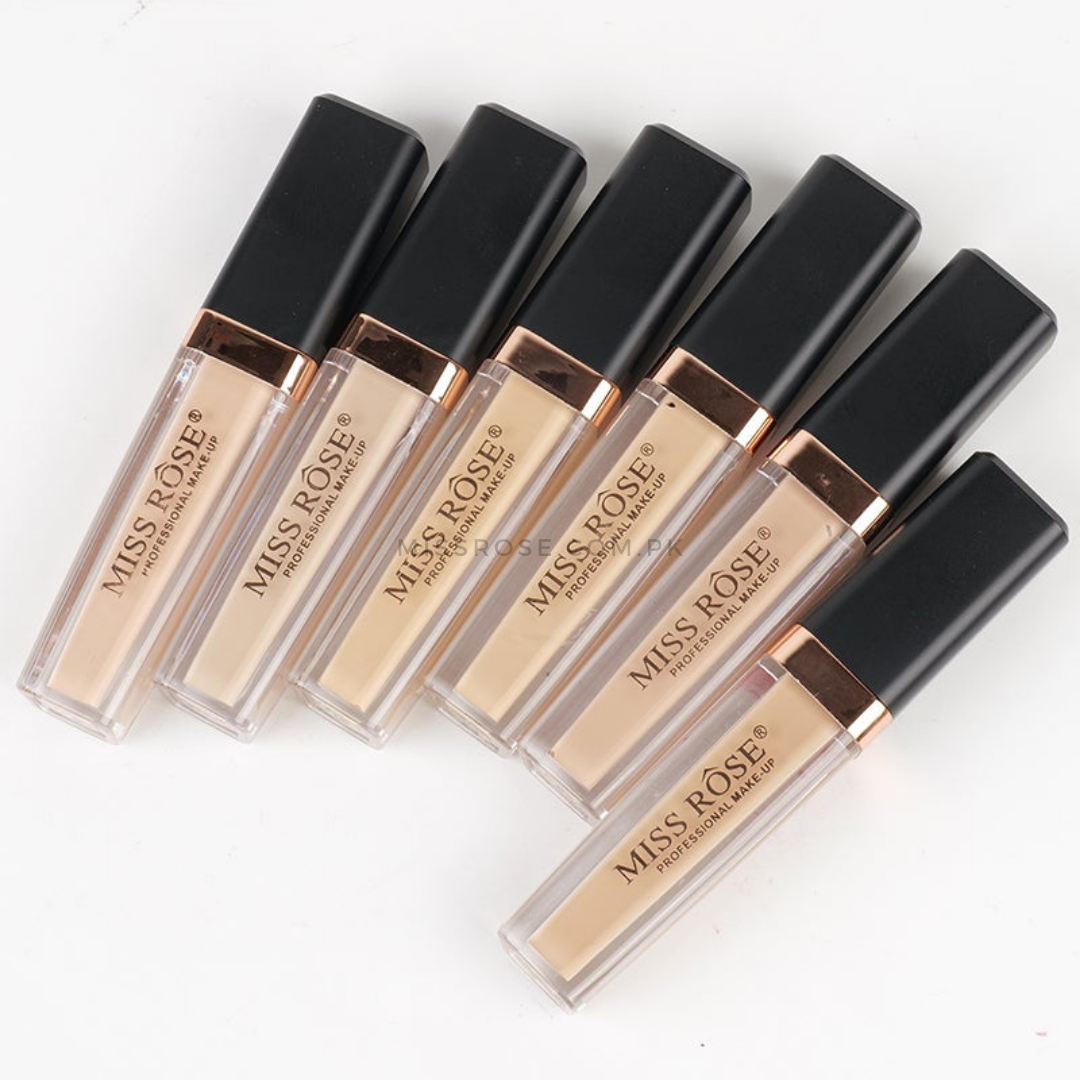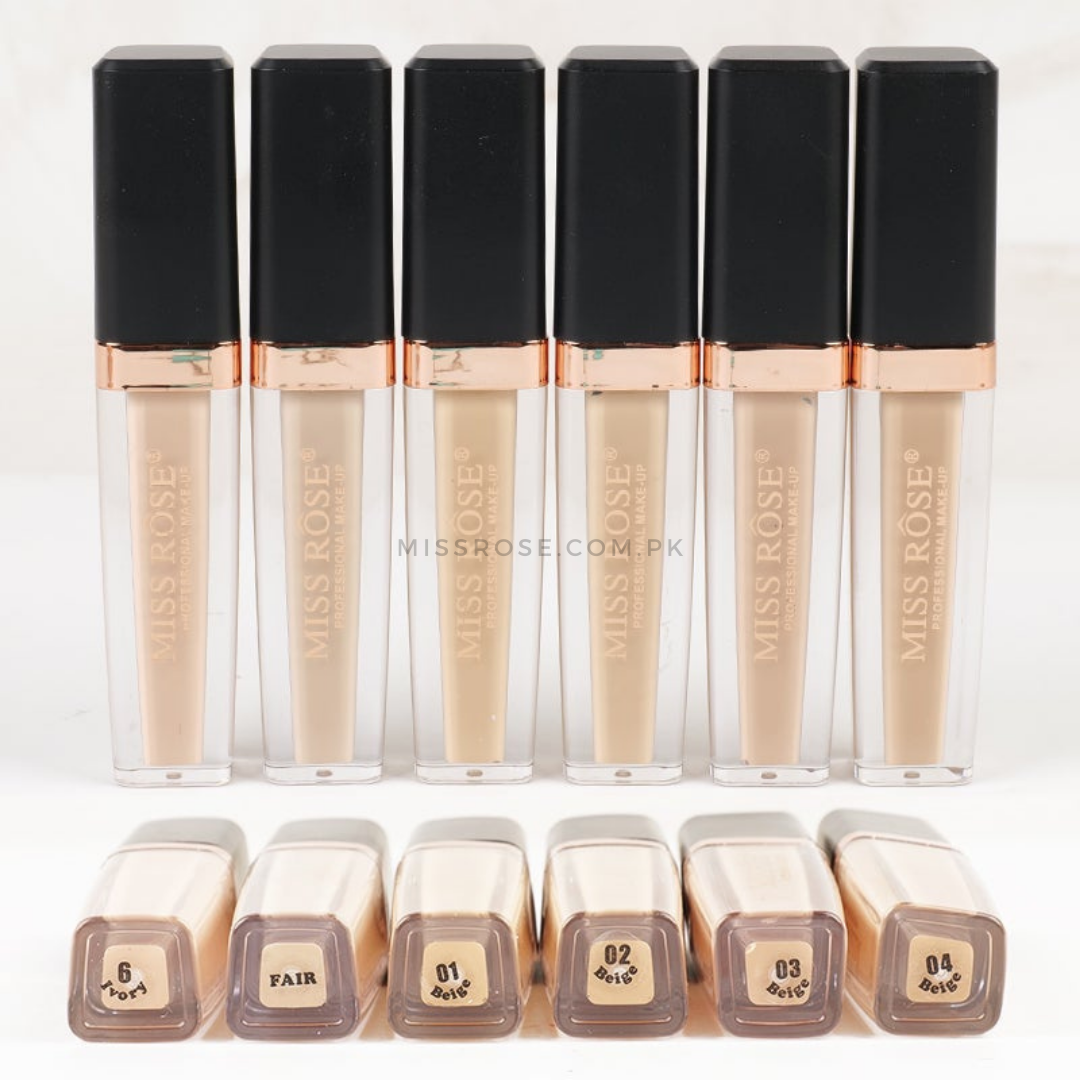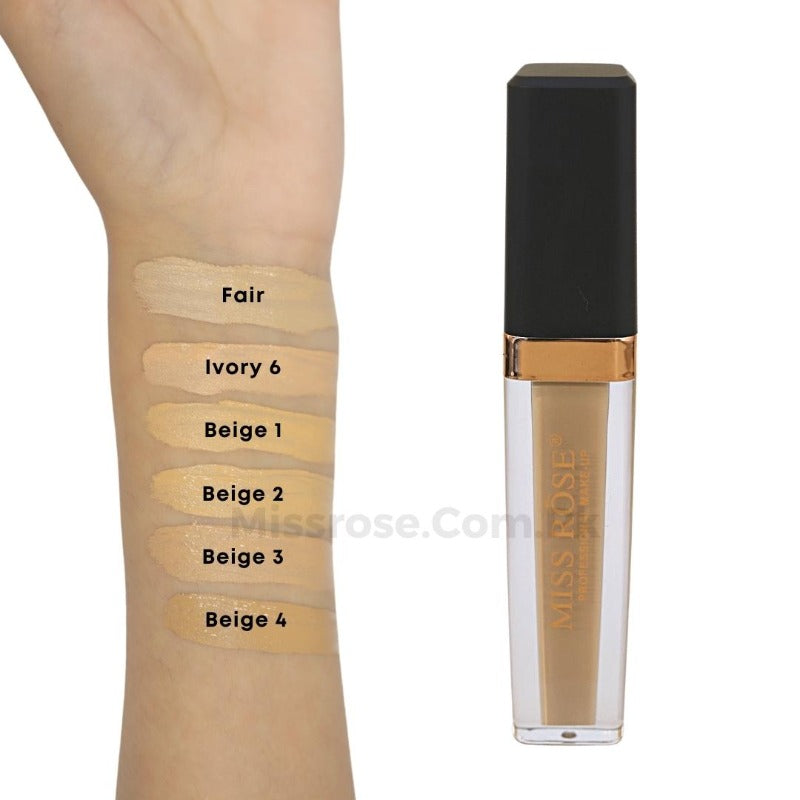 How to cancel the order Are there any charges to cancel the order

Thank you for approaching us .No Mam, We are not appling any charges for cancel order.
Just share your order number on our official whatsapp 0311 11 222 40 . 

 

how to choose perfect match of foundation accoreding to your skin tone.

Mam we have beige 1 is for normal skin tonea and fair is for fair skin tone. for best resuld kindly select 1 tone lighter than your skin tone.

Can you guide me plz which shade is best for fair skin color?

We have fair and ivory6  shade for fair skin.
We suggest you to select a shade one tone lighter than your Skin tone

Do miss Rose deliver world wide?

We are providing online services all across the Pakistan.

For More details  Kindly contact us on our official whatsapp 0311 1122240

What shade is more lighter ivory 6 or natural 1 .

Natural1 is more lighter in this concealer.

Can you tell ma pl which shade is best for beige 1 shade foundation

Mam shade natural 3 and shade beige 1 can be used with beige 1 foundation.

Can you please share a fresh and clear pic of your concealers so I can select best one

We have uploaded all the lastest picture of shades. For more details kindly whstapp us  3330529002

You said that concealer should be one tone lighter from which i should pick the beige shades in the first pic or the natural shades in the second pic what's the difference ? My foundation shade is beige 2

Mam for natural tone shade you can select shade from natural one, or hiding your dark circles you can select the shade from beige .  For more details you can whatsapp us 03330529002

Assalam o alaikum Mujhy fair tone k liye ye chaiye plzz guide kren knsa best rahega

Wsalam

Ivory 6 has pink undertone and fair has yellow undertone.  both is for fair skin tone. 

Kindly guide me if my foundation is natural ivory which shade of concealer should i choose

Shade ivory 6 can be use with ivory foundation..

Salaam mam/sir mujy pochna ye ta ke jis shade ka foundation lena hon to same ose shade ka concealer be lena hai ya 1 shade lighter? I'm buying beige 1 so which shade should I buy of concealer?

W,salam MAm. The concealer and foundation shade will be same if your skin tone is normal if you want to hide your dark circles you can go for one tone light.

If I'm choosing beige 2 shade of long wear foundation which shade of the concealer will go well with the foundation?

The concealer and foudation shade will be same,

If my skin is fair then which shade is lighter then my skin bcz I don't know much about makeup

You have to select shade fair for your skin tone.

asalamoalikum mam if i use beige 2 foundation which concelar i have to but i have doubel toon skin and not a fair compilation

You have to select Natural 4 shade from it.

What do you mean by this sentence "select one tone lighter to your skin"?

This is because when you use bronzer or contour then the foundation will blend it all together and give the perfect look to your face

Sir mai ny ap sy pehhly bhi pocha tha k mai ny 2 concealer order kiye thy by mistak beige 2 order ho gya jab k fair shad mai chahiye tha.... Kindly ye change ho jy gi shade??

Kindly mention your order number so we can track it.      

Sir mj sy by mistak beige 2 shade order ho gya tha oor 2 mangway Hain jabk mjy Fair shade mai chahiye tha kya shade change ho sakti hai??

Mam we have a 7 days exchange policy. But kindly make sure that product should be packed. In case of replacement, the customer pays delivery charges for both sides. Kindly whatsapp 03111122240 us the picture of invoice paper and product for exchange

Foundation beige 1 hai oor dark circles k liye bas bata dyn kn si shad ho gi dark circles thory ziyada hai??

Mam concealer ap shade fair main select kry dark circle ky lea.

Sir mery dark circles booht hai un ko cover karny k liye kn s shade lun???

Select 1 tone lighter shade of your foundation.

How should i choose my shade for concealer ?

Mam select shade 1 tone lighter than your skin.

I normally buy beige 1 foundation. My color is wheatish. Not very fairy. And have dark circles. Which concealer should I buy?

Mam for dark circle you have to buy the shade of fair.

Assalamualaikum if i m buying foundation in shade beige 1 so which concealer wil be matched .. please let me know..

The shade will be the same.

How much ml it contains? 5 or 10?

it is standrad size (25Ml )

aoa i have not much fair color, i think ivory 6 will suite me so which shade of conceler i should select for my skin tone?

w,salam Mam shade will be the same of your foundation.

What concealer should try with foundation beige01

Mam you can select shade beige 1 of concealer or Natural 3.

If i have ivory shade of miss rose silk foundation..then what shade should i go for concealer..because i have darker under eye area but whole face colour is fair..?? Kindly help me before the stock ends

Mam you can select shade Natural 2 of square concealer.

I am using fair shade foundation. Which concealer shade is best for under eye area

If you have fair or light skin, then Fair or ivory is going to help you cover up the dark blue and purple tones under your eyes. If you have beige or tanned skin, then you'll need a deeper shade of beige to help you cover things.